The Gym 1 Indoor Playground For Kids Is the Ultimate Rainy Day Activity
Better still, it converts to a home gym for mom and dad.
by Dave Baldwin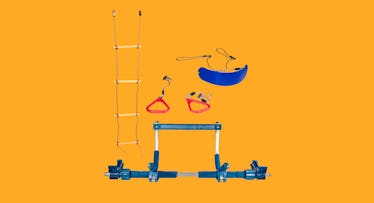 Poor weather is often a parent's nemesis. You're stuck inside, often with rambunctious kids who just want to run around and deplete their energy. And while indoor games are great, wouldn't it be cool if you could build a real playground inside your house? That's where the Gym 1 Indoor Playground comes in to play (literally).
Launched originally in Great Britain as the Gorilla Gym, the Gym 1 is essentially a heavy-duty, door-mounted pull-up bar that uses patented vise grips to support up to 300 pounds. Unlike any old pull-up bar, however, the Indoor Playground can also support 300 pounds in full swing and comes with everything a parent needs to keep kids active on a rainy day.
The 6-piece Deluxe Gym includes not only a traditional, full-sized swing, but also rings, a climbing rope, a trapeze, and a rope ladder. All are easily swapped out and use heavy gauge rope to minimize noise. The bar itself goes up in a matter of minutes (after you initially assemble it) without tools, drilling, holes in the door frame, etc. In fact, it easily comes on and off for storage and/or taking it to grandma's house. Check it out:
A couple of other cool features worth noting: First, while the gym is targeted to kids 3- to 8-years-old, they just announced three new attachments including a full-on toddler swing, a cocoon swing for kids with an inflatable cushion, and a lounge swing for adults who would like to get away. So, something for everybody. Second, they also sell a Teen Fitness package (that includes elastic resistance bands, chest strap, and ab straps) to help older kids get their exercise. And third, the whole thing converts to a personal home gym for mom and dad too, so they can work out after the kids go to bed.
The sets range in price from $100 for just the swing up to $160 for full playground, and all the exercise packages or additional accessories are sold separately.