Ikos Building Toys Are Plastic Puzzle Pieces That Let Your Kid Make 3D Art
Also, all 26 pieces snap together to make a perfect sphere.
by Dave Baldwin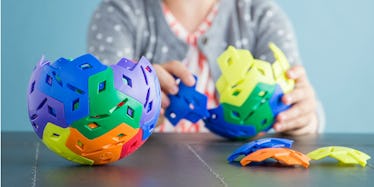 Wooden blocks. Lincoln Logs. Tinker Toys. Connectagons. Legos. Cardboard boxes … the world is in no danger of a construction toy shortage these days. If you're going to add yet another plaything for Junior to hone his architectural acumen, you should be eying this new spin on a classic concept. And it teaches them some STEAM skills (so hot right now).
Named after the 20-sided geometric shape, which you probably know as an icosahedron, Ikos is like a modular, three-dimensional jigsaw puzzle. It's comprised of 26 identical recycled plastic pieces that snap together to form a perfect sphere. But, since nobody wants to build a ball over and over, Ikos also interlock in endless combinations of designs so kids (ages 6+) can get creative and make 3D "art." In the process they'll purportedly learn about spatial relations, problem-solving, and what the hell an icosahedron is.
Ikos come in one of 7 colors — although your kids can also paint them to create their own 3D puzzle. You can get a box of 26 pieces (a single sphere) or in a giant 400-count Rubbermaid bin. Hey, Frank Gehry, Bilboa has nothing on what this kid just did in the living room.
Want tips, tricks, and advice that you'll actually use? Click here to sign up for our email.
This article was originally published on