13 IKEA Hacks That Will Improve Any Kid's Room And Save You Yet Another Trip To IKEA
What's Swedish for, "nailed it"?
by Chase Scheinbaum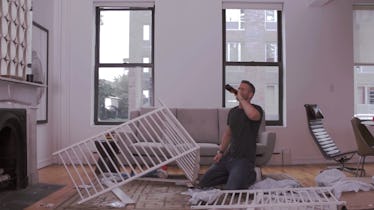 You might think IKEA is a giant furniture store that sells affordable, home-ready pieces. It's not. IKEA is primarily a place where you argue with your wife about throw pillows while your kid drowns in a ball pit. But it can also be a DIY wonderland. You just need a little vision, a lot of patience, and one tiny pencil, Because your toddler is going to be a teen one day, and their needs, tastes, and sensibilities are going change like their voice or opinion of Justin Bieber.
The guys over at IKEA Hackers know that all those particle boards and allen wrenches have infinite — but unmet — potential. "Treat IKEA like a hardware store," says hacker Jules Yap. "Walk around the store with an open mind and don't get bogged down by labels and categories. When it comes to IKEA hacking, a chair need not be a chair." So, forget about what that happy naked guy in your instruction manual is trying to tell you. If you want your kid to have an epic bedroom, brand new toy storage, or just figure out what to do with a crib other than drag it to the curb, here are a few ideas:
Buy It Now, Reuse It For Years
"As your child grows, the piece of furniture can grow up with him or her," says Yap. In that spirit, this $34.99 Sniglar baby-changing table readily accommodates after-market shelves for baby gear.
Then converts to a pint-sized closet for hanging jackets.
Then into a play table. Then they leave for college.
IKEA Hacks For Baby Rooms
Looking for a more stately changing table? This chest of drawers can enjoy a new life as a mature looking but functional diaper-changing piece.
You know what babies hate? Keeping food stationary. Give me them a chance to play with something besides rice cereal with this Highscore Chair.
IKEA Hacks For Toddlers' Rooms
Why can't storage boxes double as play kitchens that also hold culinary accouterments? Did somebody say they couldn't?
Do you have four kids? If you do, then you probably have plenty of spare time to build this 4-child LEGO-playing table with built-in storage box. Kidding. You barely have enough time to tell them to build it themselves.
IKEA Hacks For Preschoolers' Rooms
The simple LATT table becomes an artist's multifaceted workspace. Did Picasso draw this many firetrucks when he was starting out?
Your kitchen is realistic, but too dangerous for kids (3-year-olds are terrible at using a chef's knife). Add a level of authenticity to their play kitchen with over-counter lighting and LED-illuminated "burners." Feel free to stroller into their play space like Gordon Ramsey and throw their pretend food in the trash.
IKEA Hacks For Elementary Schoolers' Rooms
When one little boy demanded "the most awesome bed ever," his parents panicked, and then combined a few standard IKEA pieces. They really dodged a bullet on this one.
Spice racks and a storage cube spruce up an empty corner and create a personalized reading nook.
Particle Board Is Your Friend
Products like the LACK and KALLAX are constructed of paper between ply. These are flimsy but you can harness that weakness as a strength. "It opens up a lot of possibilities like hollowing it out and inserting fancy stuff inside," Yap says. This example shows how a simple LACK side table easily transforms into a retro-styled gaming table. Welcome home, Ms. Pac-Man.
Change The Color
Because IKEA particleboard usually just comes in white or fake oak, you're going to want to paint everything to suit your needs. Fortunately, it's pretty easy to change the color without an electric sander and gallon or turpentine. Using child-safe paints, treat the board with a good primer, then go light on the paint. "Many thin layers work better than one thick layer," Yap says.
This article was originally published on