If Legos Took a 101 on Basic Circuitry, It Would Be This Kit
When you click the parts together and complete the circuit — magic ensues.
by Sal Vaglica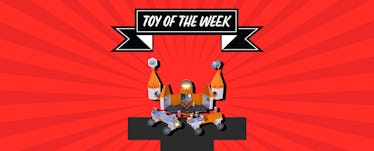 We support just about any toy that helps kids build with their hands. The act helps with all kinds of skill-building, from hand-eye coordination to predicting how the tower of Jenga blocks will topple over. And this Circuit Explorer does that too — but that's not why we love it. The parts in the Deluxe Base Station include basic wiring so when kids click them together in the correct pattern they complete an electrical circuit. The reward: flashing lights, sounds, and motion. Once they assemble the circuit, they'll press the power button, and if everything is in order, it lights up. That also encourages them to troubleshoot the build if something goes wrong. You do this every single day when you flip the wall switch in your house. But here your kid gets an entry-level course in electrical engineering.
Like Legos, the playset is open-ended. While the Deluxe Base Station has enough parts to build a pair of towers connected by a bridge, a couple of rovers, and some other parts like a rotating sign, you can add it to other Circuit Explorer kits to go beyond the picture on the box. And for six-year-olds and up, the direction printed on the toy is usually easy enough that you can skip the directions, meaning parents can join in the fun, or rest assured kids can occupy themselves. Even a simple kit has enough parts to build a cool LED flashlight.
Really our only gripe is this kit needs 15 AAA batteries. But hey, if your kid is STEM enough to play with this, maybe they can handle battery management too?
Every product on Fatherly is independently selected by our editors, writers, and experts. If you click a link on our site and buy something, we may earn an affiliate commission.