This Heated Ice Cream Scoop Is a Total Game Changer
No more pathetic defrosting tactics.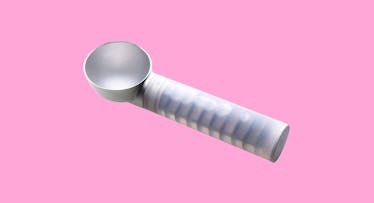 Gone are the days when you yanked out a container of ice cream and hacked away at it with a dented ice cream scooper. Your alternatives are to let it sit out for a while — not an ideal solution with impatient kids — or commit a cardinal sin against the ice cream gods and microwave the carton before refreezing (and ruining) whatever you don't eat.
Thankfully for those of us not looking for a forearm workout every time we want some Ben & Jerry's, there's finally a better way: the Scoop That II warming ice cream scoop, an ingenious solution to the confounding frozen ice cream problem.
It's so brilliant, it's almost insane. When you grasp the handle, the biodegradable liquid inside it absorbs body heat from your hand. This fluid transfers the heat down the handle toward the scoop, aided by the fishbone structure inside the handle. This extra heat helps the scoop slide easily through ice cream no matter how solid it is, an elegant solution to one of life's rather painful annoyances.
And because it uses no batteries non-electric technology means your life won't slip into the absurdity of changing or charging your scoop before digging into a pint of Häagen-Dazs.
The scoop head was redesigned from the original to produce bigger, rounder scoops; the company claims that the increased surface area around the rim also means 23 percent faster scooping.
And you can be confident that your ice cream will come off the scoop cleanly thanks to the nonstick coating. Ice cream is delicious no matter what, sure, but there's something satisfying about eating perfectly round orbs of frozen goodness.
The Scoop That II comes in black and silver, and in addition to being a clever, functional kitchen tool it also looks pretty damn sleek sitting in your utensil drawer. You'll be happy you have it every time you use it.
Every product on Fatherly is independently selected by our editors, writers, and experts. If you click a link on our site and buy something, we may earn an affiliate commission.
This article was originally published on