The Hyundai Ioniq 6 Is The Electric Sedan We've All Been Waiting For
We've finally got an EV that could dethrone Tesla, and it's coming from Hyundai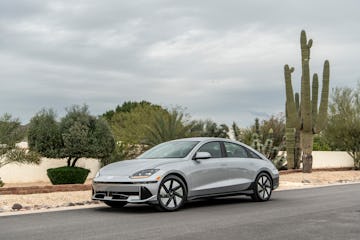 If you want a sleek electric vehicle for gas-free commuting, short-distance luxury, and, yeah, the fun of that maximum torque you get from electric vehicles, it's always been hard to beat Tesla. The variety of electric vehicles hitting the market is most definitely impressive right now, from the reliable Nissan Leaf to the beastly F-150 Lightning. But that sweet spot that so many parents look for — a reliable and slick second car with not-quite-luxury prices — still has sadly few entries. Hyundai was clearly aware of the deficit and has a very robust answer: The Ioniq 6 is the sedan we've all been waiting for.
The $45,500 SE Long Range Ioniq 6 gets 361 miles of range per charge hits all the necessities, but stands out in being uncannily aerodynamic — even more slippery than the Porsche Taycan and the Tesla Model 3. The result is a drive that is mind-blowingly quiet and a pleasure to drive. If this is your first electric vehicle, you'd be hard pressed to do better.
Did we forget to mention the looks? From its integrated door handles that sit flush with the car to hundreds of pixels that illuminate as accents (a 21st-century version of 1950s fins and chrome), the Ioniq 6 is going to elicit a ton of "gee-whiz!" remarks. It's not 1960s Alfa Romeo gorgeous, but it's darned cool from every single angle.
It gets the balance right inside too, with a smart blend of digital and physical instrumentation. Tesla wants to bury all its functions in a massive, center-mounted tablet. Hyundai on the other hand keeps tactile controls for climate and to navigate some center-screen menus, and both the instruments for the driver and the infotainment screen integrate well across the dash rather than cartoonishly dominating the interior.
Safety is all here as well: Standard features on all Ioniq 6 models includes automatic emergency braking, pedestrian and cyclist detection, rear cross-traffic avoidance (so you don't back into a car when you're reversing in a crowded grocery store lot and framed in by two towering SUVs), and auto-dimming high beams.
But it's the drive you're going to remember the most. It's smooth, balanced, and has some tricks up its sleeve. For example, while the Ioniq 6 doesn't have gears (no current EVs do), there are paddles that bracket the steering wheel; you use these to emulate "downshifting," which adds regenerative fuel to the batteries. Flip the left paddle four times and you set up single-pedal driving. That allows only using the "throttle" to go, and if you lift completely the Ioniq 6 will come to a complete stop eventually. This takes some getting used to, and on steeper declines during our test drive we still found ourselves having to use the brake, but most of the time i-Pedal driving becomes the easiest way to roll.
The backseat is another place the Ioniq blows Tesla out of the water — at least from a parent's perspective.
First, the SE model gets cloth seats made from recycled materials that hits a parental sweet spot: It's both very comfortable and stain resistant and not something the kids will ruin in one road trip.
Rear seat legroom is excellent, even for adults, with 39.2 inches vs. the squeezed 35.2 inches you'd find in a Tesla Model 3. But you'll find that the exterior leads to less headroom in back for anyone taller than six feet. It still beats the quite low roof of the Mustang Mach-e, with 40.2 inches vs. 38.2 for the Ford, and the children-only-please 37.7 inches on the back bench of the Tesla.
Kids get two rear USB-Cs, which should reduce backseat turf battles. No, there's no option to add rear mounted iPads a la what you see in the SUV space, but there are on-door cupholders to swallow juice boxes.
And on the parental front, Hyundai's rolling out a free tech suite called Bluelink+, which enables using your phone as a key (it just detects when you walk up, say with a kid in your arms and unlocks the car doors), and it lets you remotely start the car from inside your home, to warm it up or cool it off before you step outside your house. Nice! This tech rolls out to more Hyundais later thai year but debuts on the Ioniq 6.
The most range you can get from an Ioniq 6 doesn't come at the tippy top of the price ladder, since when you level up to the $47,700 SEL or $52,600 Limited rear-wheel models they get larger, 20-inch wheels. A bigger wheel increases rolling mass and inertia, and consequent range drops to 305 miles per charge.
The blingier AWD models also get those bigger wheels. Then the price leaps to $51,200 for the Ioniq 6 AWD SEL or $56,100 for the Limited, while range falls to 270 miles.
If you truly need misery-weather capability, get the $49,000 SE AWD, which has the smaller 18-inch wheels, so it still achieves 316 miles between charges. If you don't need AWD, the value play is with the $45,500 rear-wheel drive Ioniq 6 SE Long Range that achieves the aforementioned 361-mile range.
Because Hyundai doesn't yet make its EVs in the U.S., you cannot qualify for the kind of tax credits available to Tesla buyers or Ford Mach-e buyers. That's a pretty big downside and there's just no avoiding that fact. A Tesla Model 3 now starts just shy of $40,000 and according to the EPA, qualifies for $3,750 in tax credit. Even if the back seat is dinky and the 272-mile range can't match the 361 miles of the Ioniq 6, that's still a good EV at a killer price.
But presuming you can afford the Ioniq 6, there's still the question of its cousin, the Ioniq 5.
That hatchback stomps all over the Ioniq 6 in one key way: trunk room. The Ioniq 6's capacity is a merely adequate 11.2 cubic feet. You'll fit a stroller back here, and the rear seats split and fold, but the cutout into the cabin space isn't wide enough to make big-box store runs anything but a battle if you want to haul home that flat screen TV or run to IKEA for a some-assembly-required child's bedroom furniture set. Cross-shopped against the 27.2 cubic feet of cargo with the rear seats still up in the Ioniq 5 and you're seeing a different world of utility. Plop that hatch's rears down and you've got almost 60 cubic feet—that's like half a year's worth of diapers! A rear-wheel drive SE costs $45,500. Hyundai's "hacking" the federal tax credit issue by offering $499/month, three-year leases with the $7,500 tax benefiting the dealer and lowering the initial payment to $3,999.
All of which makes us think we'd be kicking some tires and asking a lot of questions about wants and needs. Since, yep, there's no perfect solution for any family, but we dig both of these Hyundais a lot. They're not sacrificing fun or (too much) utility while offering a great deal of style as well as substance. That's the EV future we're all hungry for.