The Hydro Hammock Is a Glorious Hot Tub Hammock for Two
The portable hot tub holds two adults and 50 gallons of water.
by Dave Baldwin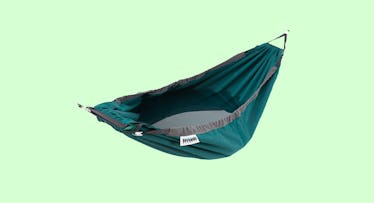 Hot tubs and hammocks: They are two of life's most relaxing outdoor indulgences. Doesn't matter if you're hanging by a river, soaking on the slopes, or just napping on the deck after the baby goes down, hop into either and it's tough not to immediately calm down. Now imagine combining the two into one glorious apogee of tranquility, a hanging hot-tub hammock that you can take camping, to the beach, wherever. Somebody in Oregon did, and it's called the Hydro Hammock.
Essentially, it's a waterproof, UV-resistant canvas hammock that holds two people (up to 750 pounds) and 50 gallons of water. Simply string it up between two trees ⏤ or attach to one of their stands ⏤ as you would a traditional sling and lie down. Simple as that. It measures 10-feet by 5-feet, includes heavy-duty carabiners, spreaders, and adjustable straps, and works just fine without water.
To turn it into a hot tub, however, you just attach the portable propane heating unit (sold separately) and fill it up. It has a rechargeable battery, needs only to run 10 minutes every 45 to reheat the water, and doubles as a portable hot water camping shower. If you didn't want to buy or haul the heater (it weighs 66 pounds and runs $1,500), you can still enjoy a 'Cold Plunge' on a hot day or use the hammock for ice baths after a long run.
There are two new models available for 2018: The 11.5-pound, single-layer Watui in forest green and the 14-pound Bula in blue. Both are the same size but the Bula, thanks to two layers and an internal pouch, converts to a waterbed in addition to a hot tub. The Watui costs $449 ($1,849 with heater) while the Bula runs $619 on its own, $1,949 in the bundle.
This article was originally published on