Huffy's High-Powered Green Machine RT Drifting Trike Is On Sale Right Now
It can accommodate kids up to 180 pounds and has dual-stick steering and rear-wheel brakes
by Dave Baldwin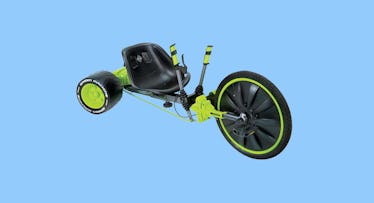 While kids may not ride Big Wheels as much as they once did, that doesn't mean high-powered three-wheelers are off the asphalt. Not at all. In fact, they've just gotten cooler. Huffy's updated its legendary Huffy Green Machine drifting trike for 2018, and is selling it on the cheap at Walmart and on Amazon.
For purists (and parents who want their kids to actually get exercise), the Huffy Green Machine RT is a sleek, low-to-the-ground pedal trike with "super slick" rear racing wheels and a 20-inch pneumatic front bicycle tire. The motocross frame and adjustable seat accommodate kids up to 180 pounds, and the dual-stick steering and rear-wheel brakes ensure they can easily execute smooth slides and 180-degree spins. It also makes them look like they're flying a jet.
Now, if you want your kids to take things up a notch (while wearing a helmet, of course), Huffy also sells a 24-volt electric Huffy Green Machine. It operates on the same premise, but with a thumb-operated push-button throttle, handbrake, and top speed of 12 mph, for even more "extreme drifting action." The battery runs 30 minutes on a single charge.
The RT currently rocks a $98 'rollback' price at Walmart (although $90 on Amazon) while the Electric runs $150, down from its usual price of $199.
This article was originally published on