The '65 Ford Mustang Could Be the Most Insane R/C Car Ever Built
It's a 1/10th-scale replica of rally driver Ken Block's iconic custom-built Hoonicorn RTR.
by Dave Baldwin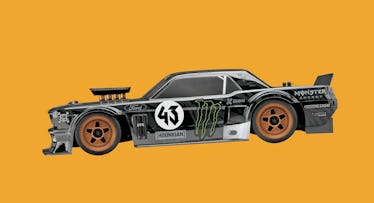 There's a good chance your kid ⏤ hell, most people ⏤ have no idea who Ken Block is. He's a professional rally car driver who co-founded DC Shoes and owns Hoonigan Industries, an apparel brand for "rebellious gearheads." That doesn't matter, though. In this case, all you need to know is that he drives an insane custom built '65 Ford Mustang known as the Hoonicorn RTR in one of his videos. It's ridiculous, and very Fast and Furious, and considered one of the most iconic custom-car builds in years. Also, it just got shrunk down into an equally jaw-dropping remote-controlled car just in time for the holidays.
Granted, R/C cars like this are generally targeted to hard-core enthusiasts, but that doesn't mean your kid can't enjoy tearing up the cul-de-sac with a little adult supervision. The 1/10th scale Hoonicorn is made by one of the R/C industry's premier manufacturers, HPI Racing, and is pretty much a spot-on replica of the full-sized drift machine, right down to the "gigantic supercharger air scoop, paint scheme, and custom fifteen52 R43 wheels and Pirelli P Zero tires." In terms of other tech specs that make little sense unless you're really into racing R/C cars, the 17-inch ride also features HPI's RS4 SPORT 3 chassis with full-time 4WD, oil-filled threaded shocks with multiple positions, and a double-wishbone fully adjustable suspension. Also, it's fully customizable.
Best part, though: for all its technical prowess, the '65 Ford Mustang is still considered a Skill Level 1 car, meaning no previous experience with radio controlled models is required. Plus, everything you need to hit the road is included in the box and ready for Christmas morning.
This article was originally published on