How to Use Apple's New Group FaceTime (and Explain It to Grandpa)
The new app lets you video chat with up to 32 people at once. Here's how it works — and how to troubleshoot when relatives are stumped by it.
by Fatherly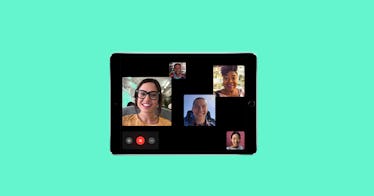 Apple's latest operating system, iOS 12.1, introduced a host of new features. But by far the one we're most excited about — and the one that will make parent's life much easier — is the update of an existing one: FaceTime. iOS 12 adds Group FaceTime, which allows you to chat with up to 32 people at once on a funky tiled interface. Before, FaceTime was isolating. Now, it's expansive, allowing you to chat with a big group of friends, grandparents, and extended family all at once.
Group FaceTime, which is available for use on all Apple devices, is quite simple to use. In fact, one of the best parts of the system is just how easy it is to add and drop calls without disturbing the rest of the group chat. But, as with all such things that involve technology and your extended family, problems will arise when relatives who aren't the most tech savvy try to join the call and can't or do and spend the whole time shouting "Where are you? I can't see the kids. What am I doing wrong?" because they've pressed some button you can't see.
So, to offer some guidance, we wanted to give you a simple cheat sheet to reference when you need to explain things to folks who might not be the most tech savvy. Oh, before we begin a note — and this is very important, as it will likely be the reason Aunt Martha is having trouble with the app: In order to use Group FaceTime, all participants must have updated to iOS 12. Got that? Okay, now, read on.
How Do You Place a Group FaceTime Call?
There are two ways to start a Group FaceTime call. The first is through the FaceTime app and the second is through the Messages app. Setting it up through the FaceTime app is great for adding people to a new call; Messenger is a great option for starting a FaceTime call with all the contacts in an existing group text chain.
Using the FaceTime App: Open the FaceTime app. Tap the "+" which is located in the right-hand corner to bring up a caller. Type the name of the person — or people — you would like to call in the "To" section until you have added all the people with whom you want to chat. Reader to place the call? Press either the audio or video button. Those on the list will receive a notification about your incoming call.
Using the Messenger App Open up a group chat or create a new one with all applicable contacts. Once entered, press the names of the people listed at the top of this chat to get more info about the group. This will bring up a menu bar in which you'll find a FaceTime option. Press it to start the chat.
How Do You Answer a Group FaceTime Call?
A notification will pop up on your phone. Tap it and you'll be entered into the call, simple as that. Oh, and if you're in a group chat and someone initiates the Group FaceTime, then a notification will pop up.
How Do You Add Another Person to an Existing Group FaceTIme Call?
Easy! See the icons at the bottom of your screen — the funky star, the red "X", and the three dots? Press the three dots. After you do so, you'll be given the option to add another person from your contacts. Select a name and that person will receive a notification about the ongoing call.
How Do You Apply Effects, Filters, and Animoji into Group FaceTime calls?
See that funky star on the left-hand side of the screen? Press it and you'll be given a bunch of different options from which to choose — stickers, Animoji, shapes, etc. You can apply them to yourself, specific group members, or everyone. All of the effects you choose will be visible to everyone. Choose those monkeys wisely.
How Do You Leave a Group FaceTime Call?
See that big red X on the screen? Press it and you'll leave the call. Bye bye now.
This article was originally published on