Tony Hawk Is Here to Teach You and Your Kid How to Skateboard
Unleash your inner skater.
by Donna Freydkin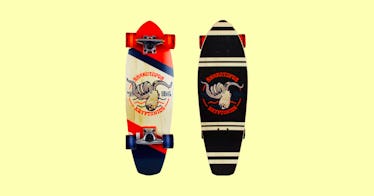 Skateboarding, as Tony Hawk puts it, is "a lifestyle, a sport, and an art form all at once." It's always been cool, as well as just a practical way to get around, but now there are even better reasons to finally learn how to skateboard — or, if you already know how to ride, to learn more tricks. It's the perfect outdoor activity in the era of social distancing, for one. And two: Tony Hawk will now teach you.
The legendary Hawk was the first to ever land a 900, a trick that involves completing two and a half mid-air revolutions, and famously skated through the White House grounds at Barack Obama's behest. He earned his nickname, Birdman, because the dude can basically fly. The man is cool.
And now, along with his son, Riley, and pro skater Lizzie Armanto, he's teaching beginning, intermediate, and advanced tricks in street, park, and vert skating over at Masterclass. For $180, Masterclass membership includes access for a year to Hawk's class, so you can keep practicing and learning, as well as to more than 80 other classes taught by the best in their fields.
It's never too late to learn to skate, especially if you're learning with your kid. All you need is a board and a helmet, really, and now there's expert, socially-distanced instruction to guide you through. In this class, Hawk goes over the basics, along with dope tricks, including the ollie, the backside pop shove-it, and his signature move, the Madonna.
When choosing a skateboard, pay special attention to width, not length. If a skateboard is too wide, it'll be harder to use it; one that's too narrow won't feel stable and you'll have balance issues. Adults, or kids taller than 5'3″, should get a full-sized board.
Kids 5 or younger (who are up to 3'5″ tall) should get what's called a micro-deck, which is about 6.5 inches wide. Kids 6 to 8 (3'5″ to 4'4″ inches) should get a mini-deck: about 7 inches wide. And kids 9 to 12 (4'5″ inches to 5'2″ inches) should skate on a mid-sized board, which is 7.3 inches wide.
Shortboards are great if you plan on being airborne and performing tricks. Cruisers, meanwhile, are ideal for riding around your neighborhood. Longboards are best if you plan on going longer distances.
Every product on Fatherly is independently selected by our editors, writers, and experts. If you click a link on our site and buy something, we may earn an affiliate commission.
This article was originally published on