How to Remove Grass Stains, Grease Stains And 3 More Kid-Created Messes
Science and experience converge to battle the worst stains kids can throw your way.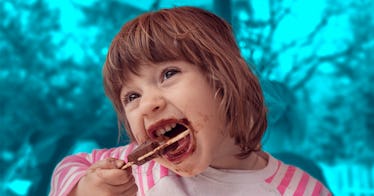 The following was produced in partnership with OxiClean™ MaxForce™.
Parenthood is a messy business, and the parent who aims to prevent all messes is a parent who is doomed to fail. The better strategy? Be prepared for the inevitabilities that your kid is going to track in dirt, spill their juice, and spend time making clean things dirty. What's a parent to do about it? Arm themselves with science, patience, and a stain-fighter like OxiClean™ MaxForce™. Do like these five dads did, and take care of business.
Food Stains
It's time to talk about blueberries, perhaps the most stain-prone fruit around. (Un)fortunately, they're also packed with nutrients and are delicious, the kind of thing you want your kid to eat early and eat often. That means that your kid's blueberry phase will probably overlap with their smash-food-and-flip over the dish phase, which means their shirt and yours are at risk of some Jackson Pollock-style splotches. When his one-year-old had a particularly energetic snack that landed plenty of smashed berries onto his shirt, one dad sprang into action. After a solution of hydrogen peroxide and dish soap didn't quite remove the entire stain, he doused it with OxiClean™ MaxForce™, which removed what remained of the disaster.
Pro-Tip: Best to rinse away fresh stains with cold water to avoid setting in.
Dirt Stains
Any parent who builds their kid a mud kitchen knows that dirt stains are forthcoming. But a good mud kitchen is totally worth developing a stain-fighting plan to give your kid the joy of playing around in wet dirt. One dad set up an entire dirt mud removal station on the back porch that's allowed his daughter to pursue the mud arts without ruining her clothes or the carpet. After playing she simply hangs her mud-covered clothes on the station to let them dry. Once dry, a vigorous shake is enough to get out most of the mud before washing. Even better: he taught his daughter this system, giving her some more responsibility to go along with muddy backyard fun.
Pro-Tip: Trying to clean muddy clothes when they're wet usually just smears the mud around. Letting them dry allows you to remove the dirt more easily.
Grass Stains
Dogs are like kids, wonderful but messy, and one dad found out the hard way what can happen when you combine the two. After days of incessant requests, he finally gave his (small, persistent) kid the leash for their new (large, unruly) dog for the first time. Perhaps sensing an opening with a lighter leash holder, the dog took off after a squirrel who dared dart across the family front yard at that very moment. By the time the kid let go of the leash, the squirrel had disappeared, the dog was barking at the fence, and the kid had left a ten-foot divot in the lawn. After calming down the mildly traumatized but otherwise unscathed youngster, the dad tackled the body-length grass stains his kid had accrued. He got the clothes into hot water stat and the outfit lived to be worn another day.
Pro-Tip: Chlorophyll molecules, which make plants green, are often bound to specific proteins, which makes them a pain to remove. Use an enzymatic stain remover like OxiClean™ MaxForce™ to help break down the proteins to remove the stain.
Grease Stains
There's not really a good word for them, but the clear, hourglass-like plastic toys that let kids watch brightly colored oil drip into a water-filled chamber have been around for ages. They're mesmerizing to kids because the oil and water never combine, and the most curious among them will try to crack open the toy to see what's happening first hand. When one dad was faced with an oil-soaked kid, he sprang into action. The boy, an experienced stainer, quickly shot his hands up. Dad removed the shirt, paving the way for his son to sprint inside for a much-needed shower. Left with a greasy garment, Dad quickly wiped off the oil that had yet to be absorbed before a liberal application of OxiClean™ MaxForce™ Spray took care of the rest.
Pro-Tip: Oil's hydrophobic nature means that regular detergents are relatively ineffective against oil stains. Use a grease dissolving pre-treater like OxiClean™ MaxForce™ to get oily stains out.
Food Thickeners (like in ice cream)
Whoever decided to make a melting dessert in an edible dish a staple of the hottest days of the year played a truly cruel trick on parents. One dad whose kid prefers chocolate to vanilla (of course) was the butt of this joke on a particularly hot day at the parlor. His son's elation at getting a three-scoop cone turned to tears and screaming — the kind you can hear for miles around — when the sun melted a structurally significant amount of the ice cream, sending it crashing onto his shirt. Luckily, some intense blotting with cold water at home saved the shirt. The cone, sadly, was beyond saving.
Pro-Tip: Rinse the excess away and use OxiClean™ MaxForce™ Spray which is specially designed to break down hard to remove food thickeners like those found in ice-cream.
OxiClean™ MaxForce™ Spray is a powerful stain-fighting tool designed to combat all 5 types of stains. Paired with some solid tricks of the trade, even the toughest stains don't stand a chance.