How to Tie a Christmas Bow on a Car
If somebody receives a car as a gift but there's no bow on it, did they really get the car?
by Dave Baldwin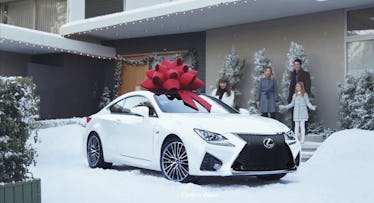 Lexus
So, you've decided to gift a car to someone on Christmas. If you're going to go through with such a big gesture, you can't skimp on the decoration. Much like proposing without getting down on one knee, giving somebody a new car for Christmas without tying an obnoxious giant ribbon around it feels half-assed. So, if you're going to do it, really do it. Tie a bow just like in those Lexus December to Remember commercials. Get festive.
RELATED: The 14 Best Holiday Gifts for Dad This Season
Here's the simple truth: you put a ribbon on a car the same way you put a ribbon on, say, a oddly shape kid's toy: You buy a bow that has adhesive on the back and slap it on the windshield or on the roof. There are plenty of car bows available in stores and online (a weird number actually) and they range in price from $9 for a basic 18-inch bow from Michaels to $80 for a massive red-velvet-and-gold-trimmed bow. There are also plenty in the $30 range which ⏤ considering you just dropped thousands on the car itself ⏤ doesn't seem like a stretch.
ALSO: The Ultimate Guide to Thoughtful Last-Minute Christmas Gifts
That said, if you're the kind of gifter who appreciates saving money and/or crafting, there's no shortage of how-to videos online that will walk you through making your own bow. In the interest of saving you time, we did a hard-target search and found TruCar's simple paper bow to be pretty much the easiest of the DIY group. All you need is a few sheets of red poster board and some scissors and glue. You can follow along below.
So, there you have it. Whatever you do, just go big with it. Also, congrats again on being able to buy somebody a car as a gift in the first place. That's a pretty significant life accomplishment. We're not jealous at all.