How to Keep Track of IKEA Kids Product Recalls
There are WAY more of these than you realize.
by Fatherly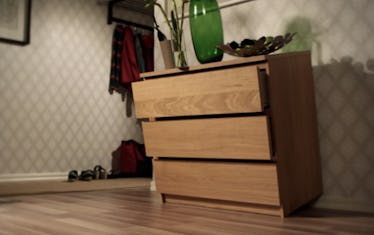 IKEA
According to the Consumer Product Safety Commission one child dies every two weeks due to a piece of furniture, TV, or appliance falling them, and another 25,400 are injured every year. That's the kind of stat that might glaze your eyes over if IKEA didn't just recall about 36 million chests and dressers this week after six children were killed. The recall includes six models of MALM chests or dressers manufactured between 2002 and 2016, in addition to nearly 100 other chests and dressers (read the full list here) … so, like, half of what you've bought at IKEA since your kid was born.
RELATED: The Most Dangerous Toys and Baby Products Recalled in 2017
This was national news and difficult to miss, but that's not always the case with furniture, children's products, and clothing — which made up two-thirds of all product safety issues in 2015, according to the CPSC. With car companies accidentally maiming people Olympics as well, the real challenge is keeping all these recalls straight. Unless your kid gives you enough spare time to read Safekids.org daily (spoiler: they don't), you might miss something. Most recalls require immediate action, so when you're done nailing all of your furniture down, here are a few resources to keep you up-to-date and informed.
ALSO: The Dangerous Toy and Baby Product Recalls That Happened in February
Download Recalls Pro App for Smartphone
The Recalls Pro app tells you when the FDA, CPSC, USDA, EPA or NHTSA think you're SOL.
Search the Kids Product Recall Database
Babycenter.com has a searchable recalls database that goes back 12 months.
Get a Kids Product Recalls Newsletter
SafeKids.org issues a bi-monthly newsletter with all the latest recall information.
It turns out, technology does a pretty good job of handling just this sort of information overload – when it's not trying to kill us.