How to Build a Pool, Basketball Court, Hockey Rink, or Field Inside Your House
It's totally fine. You can definitely throw the ball inside.
by Jess McBride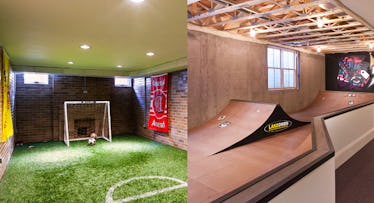 Watching the world's greatest athletes compete for the gold is entertaining — and it's great inspiration for all of us to get active, set goals and push ourselves toward achieving them. Athletic goals need not be herculean; maybe yours is simply to spend more time playing with your kids and less time on your computer. If more family bonding time is what you're after, or if your kids need a little coercion to put down the joystick and get moving, converting a basement, third floor or garage into a bona fide arena is a surefire way to infuse that Olympic spirit into your home, no matter where you live. Here's how to build a pool, basketball court, hockey rink, and field inside your house.
How to Build a Basketball Court
Chicago-area Oakley Home Builders designed this basement as a basketball arena for a family of enthusiasts. Although the court isn't regulation size, the collegiate posters make young players feel like NCAA champions, and painted three-point and free-throw lines provide meaningful boundaries for practicing their shots. To reduce echoing by absorbing sound, carpet covers the lower walls.
How to Build a Golf Course
Practicing one's putt doesn't require a ton of room, and a proper net in a place with enough space can even allow for swing practice. Using turf instead of carpet is an easy swap, and a wall-size mural of, say, world-famous Pebble Beach Golf Links adds a designer touch that makes the room feel like a pleasant place to be and not just another exercise room.
How to Build a Soccer Field
For a basement conversion that is mercifully less expensive to install than a basketball court with sneaker-appropriate flooring, look to turf painted with a center line and small plastic goals from any sporting goods store. Obviously, the larger your basement, the more conducive it will be to playing out your World Cup fantasies, but even a small basement can be valuable for a tight scrimmage or practice kicks.
How to Build a Hockey Rink
As kids, my brother and I spent winters skating around our backyard, and when the weather turned prohibitive, we would move the game to our basement, where we shuffled between the sofas on our knees playing floor hockey with little Hartford Whalers souvenir sticks. The lack of windows in many basements, such as this conversion on Long Island, New York, lets kids slap around a puck without causing too much mayhem.
How to Build a Skateboard Rink
If your child is more into the skateboarding scene than the varsity team, a room like this would be an irresistible retreat on rainy or snowy days when the town skatepark is socked in. A high ceiling is key, though if your ceiling is lower than ideal, exposing the ceiling will at least give the illusion of more headroom.
How to Build a Pool
Having an indoor pool is the dream of any avid swimmer who lives in a climate where swimming outdoors year-round isn't possible. E.B. Mahoney created this light-filled lap pool for clients in Philadelphia, a locale that sees its fair share of chilly weather, but a full pool like this isn't the only way to find hydrophilic bliss indoors. Swim spas have a propeller directing a current down the center of a basin just large enough to fit a swimmer. The strong current enables the user to essentially swim in place.
This article was syndicated from Houzz. You can read Jess McBride's original article here.