The Case for Building Your Own Treehouse
If there was ever a time to do it, it's now.
by Donna Freydkin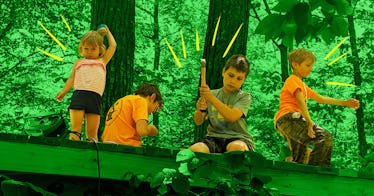 It's easy to create a fort for your kids with a few couch cushions and an old blanket. Fun? Sure. Groundbreaking? Not particularly. If you truly want your kids to have an elevated fort for the ages, you need to throw down the gauntlet and build a proper treehouse. Just imagine: A glorious hideout nestled high up in the leaves, where kids can run their own command center, look out for enemies, and have a place all their own to escape their parents.
Now, constructing a treehouse is not a project for the lazy. This isn't something you do on a whim. It requires planning, commitment, attention to detail and safety. A careful parsing of the materials. And of course, an eye for design, because you don't want a hideous blight on your property, sticking out from the trees like a sore thumb.
Caleb Mulvena, an architect based in New York City who specializes in sustainable, sleek designs at Mapos, the firm he co-founded, planned out and built a gorgeous wood treehouse for his three kids at the family's weekend lake house in Connecticut. The whole process took around 40–60 hours, and he's still making tweaks. Was it worth it? Just look at the majestic structure, and you'll know the answer.
"Kids always harass you for these things they want. Over the years, it's been a dog and we weren't getting a dog. A treehouse was another option," says Mulvena. "Last summer, I said, we can do this. It checks something off of the life list. As a dad, if you have the ability and the land to do it and you have a bunch of kids, a treehouse is always one of those bucket list things. The kids are only young so long. You can't wait until they're teenagers. Let's do it while they're young."
Mulvana involved his kids in the design and build process. "I made space when I was doing it so the kids could help. My older son helped me with hammering a couple of nails. As you're devising where the windows are going, have the kids review and come up with ideas," he says.
Step 1: "Since I'm an architect, I made a rough conceptual 3-D model in SketchUp. It's easy to learn and you don't have to be an architect to use it. The kids are the clients and they can review and approve the design. There's a free version of the software you can use. That's all you need."
Step 2: "We had to pick out a tree. I spent time with the kids doing that. You want to make sure the tree is alive and is very stable. Ideally, you want a tree that splits off into a couple of chunks. That makes the treehouse more stable. You also need to understand how trees grow. They grow out. They grow from the tips. You want to anchor your wood into the tree and get some really deep screws and get them into the center of the tree. I also recommend keeping it really simple and not overthinking it. Since I have a background in building stuff, I could wing it. You don't have to follow your vision exactly. You get up in a tree and plans change. Trees are not straight."
Step 3: "Getting the wood. You want to get wood that works outdoors and won't degrade. For anything that's exposed structurally, you want it to be pressure-treated wood so it doesn't rot. The studs and the roof structure can be standard by two by nominal lumber. And then you start building it."
Step 4: "We built the platform first. On top of the platform, you can build the walls and the roof structure. Get the framing first. Put on the siding and the roof. The roof itself — you do it like a real roof. You put down subroof plywood and shingles on top."
Step 5: "We had to figure out how to climb in and out of the tree. In our case, we attached a ladder to the tree trunk. It was pretty simple. You want to make sure the rungs are not more than 12 inches apart so little kids can get up there."
The house is a hit with Mulvena's brood. The kids spend hours in it, giving their parents a very welcome break. "The kids love it. The fact that they have this treehouse — it becomes part of their games, when they're playing zombie tag or Nerf wars. It's their hideout. It's their private place, which is nice," he says.
If you're inspired to build a treehouse like Mulvena did, you may have the tools you need already. But if not, a few basics to have on hand:
Every product on Fatherly is independently selected by our editors, writers, and experts. If you click a link on our site and buy something, we may earn an affiliate commission.