This $60 Web Cam Is Better Than Any Baby Monitor
It's really quite simple — and costs one-third of the price.
by Brendan Charles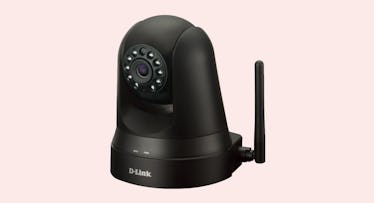 Growing up in the '90s, I always thought that cameras in the home were straight out of science fiction ― something for the movies that would never become a reality in our lives. Even crazier, as a kid myself, was the thought of someday using a camera to keep tabs on my kids. Watch them sleep? That's insane. But here we are, twenty years later; I have two and you're in the minority if you don't have a video baby monitor. The future is a weird place.
A lot of parent-centric video monitors, however, don't actually do that much. They rely instead on 'baby branding' to pass off basic functionalities for a very high price. Personally, I didn't want to pay $300 for a gussied up camera with a blue stripe I was only going to use for a couple of years. Instead, I went on Amazon and found a D-Link network camera (DCS-5010L), a standard webcam. It was both loaded with features — including the ability to pan, tilt, and zoom — and easy on the wallet. In fact, at $60 on sale, I bought one for each of my kid's rooms.
The D-Link camera is a little trickier to setup than a traditional baby monitor, but not by much. With a baby monitor, it's usually a matter of pairing the camera to the monitor. With the web camera, you have to plug it into your router and run a setup wizard to connect to the Wi-Fi network. After that, though, you can view the feed on your phone or tablet from anywhere, whereas most baby monitors are limited to the house (or at least to a certain distance between camera and monitor).
The D-Link has everything I need. Wi-Fi connection, an iPhone and Android smartphone app for remote viewing, night vision, 360-degree rotation, and more. What's even better is that D-Link regularly updates their app with bug fixes, as well as rolls out new firmware for the cameras. New features like video recording to your device and new camera controls are also constantly being added.
Now, while I give the D-Link full marks for functionality, there are a couple of things that could be improved. My biggest gripe is with its bulkiness. The camera is fairly large and would benefit from a more elegant design that hides the wires. Also, for a security cam, it can be very conspicuous. Compared to the pastel decor of a nursery, it stands out like one of those Star Wars spy droids. The resolution is VGA (rather than 720p HD, as on some of the more expensive D-Link models), and it only offers one-way audio, so we couldn't soothe our kids back to sleep over the speaker.
That said, the biggest sell has to be the D-Link's versatility. Now that my son is 4-years-old, and I feel a bit creepy having a camera in his room, it's found new life as a general home security cam. I've even activated the motion detector and turned it into a kind of smart doorbell without having to spend another $250. The camera notifies me when it senses movement near the front door, be it potential intruders, salesmen, or cats. So far, it's mostly cats. As I said, the future is a weird place.
This article was originally published on