How Families Can Prepare for the Small, Smart, Sustainable Homes of the Future
A little planning is all it takes to land a smart, sustainable, and, yes, affordable home today.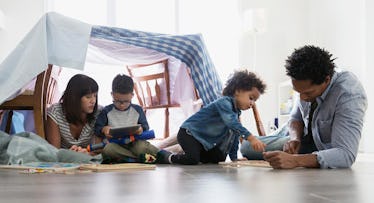 The following was produced in partnership with our friends at New York Life, who are committed to helping families be happy, successful, and good at life.
The homes many of us grew up in were, for the most part, similar to the homes our parents grew up in. The living room's plush couch and chair faced the television; the dining room sat mostly unused, ready for a special occasion; the kids shared a bedroom (with bunks!); the kitchen was ever-bustling, and the basement that once held the furnace had become an escape for kids to play. This familiar layout is fast-disappearing.
For one, homes in the U.S. are getting smaller. This is in terms of square footage (which has been on the decline since 2015), but also in terms of lot size, which has plummeted to a 39-year low 8,428 square feet. Meanwhile, prices continue to skyrocket to record highs due to a scarcity of new homes, and, according to some estimates, will rise another 10 percent from now through 2018. That's not to say our future will be cramped and penniless. The dream home for families today just looks a little different. New thinking on modular architecture has offered a way to grow where we are; technology is changing the way we connect with the home, and shared spaces are allowing us to keep the yard space. A little planning is all it takes to land a smart, sustainable, and, yes, affordable home today.
Homes That Grow With the Family
"The American imagination has captured on the trend of tiny houses," says Brian Gaudio, the CEO and founder of Module, a housing company that builds and designs adaptable, row-house habitats which can be expanded vertically or through the back. "I think that phenomenon of smaller living is catching on."
To that end, parents who are just starting to raise families are embracing the aesthetics cozier spaces provide. There's a practical and financially-savvy side to this trend: Smaller homes mean there is less to maintain and increased efficiencies, especially in heating and cooling — money in the bank when it comes to utility and maintenance costs.
These savings are increasingly being sunk back into the home — just at a later date. Parents are starting to jettison the idea of a home as a static object and thinking about it as a unit that grows with the family. Modular homes are a perfect representation of the idea. Designed for easy expansion, these homes allow families to add that extra bedroom, bathroom, or office by simply picking it off-the-shelf room and having it installed by the company — no contractor or years-long approvals needed. This means you can buy a very basic one-bedroom apartment to start and turn it into a two-floor townhouse over the years, one room at a time. The other, more common option would be the classic secondary suite additions (sometimes known as the "granny flat" or "garden office") used to add more space to a home as the needs of the family increase, such as new members or a pivot to telecommuting from home.
Then there's the focus on what goes on inside the house. Many families are making small spaces work harder with clever uses of furniture and personal organizers. A slew of new apps have even lowered the cost of interior decorating by taking it offsite — the family snaps some pictures of the space, the interior decorators offers furniture, decor, and organizational advice. Interior design becomes less about chic showpieces and more about efficient furniture that helps the space flow for the whole family.
Smart Homes, Long-Term Savings
"Home is where the heart is" takes on a new meeting in the digital age where the space of your house is no longer limited to just its physical borders. With so many new devices collecting data and making sense of it through cloud-based connectivity, there's an extraordinary potential to stay connected to your home — and family —no matter where you are.
Smart technology provides more streamlined and accessible home security, fine-tuned home appliances that keep the house running efficiently, and helps parents find peace of mind by knowing where their children are and what they are up to in real-time. Matthew Mahar, vice president and general manager of Vivint, a smart home platform company, calls these smart technologies a step toward a "self-driving home," where the home monitors and adjusts itself as it can — opening a vent, turning up the temperature, activating the basement pump — to help save its owner time, energy, and money. Furthermore, smart features can turn home maintenance into a family affair. "As children get older and as parents start to delegate more responsibilities to them, certain functions like automatic faucet shutoffs or closing cabinets can be removed when the kids start to learn how to do these things on their own," Mahar says. "Older children and teens who are more mature could be given more access to certain functions, like energy and thermostat control."
There's a human element to all the tech, too. Matthew Zartman, the head of communications for smart home company Alarm.com, argues that this direct connectivity changes the home environment in a very warm way. He cites as an example the way in which he gets a daily alert on his phone, with a video clip, of his son coming home from school. "It's a simple but really personal and meaningful interaction that I have with my son every day," providing him the security to know where he is, without the need to interrupt his son with a phone call and intruding on the kid's burgeoning independence and freedom.
The home of the future might be smaller, but that doesn't make it any less comfortable or happy. Kids growing up in homes with connected tech and innovative design can operate more independently thanks to new devices, while still feeling close to the outdoors and the organic world. An increasingly complicated world doesn't mean more complicated lives. On the contrary, the future home feels easier to manage and more enjoyable than ever before.
This article was produced in partnership with our friends at New York Life, who are committed to helping families be happy, successful, and good at life. Learn more at newyorklife.com.
This article was originally published on