Sale Today: Corn Hole, Lawn Bowling, and More Backyard Games
From oversized versions of classics to new inventions, there's something here to help you enjoy your time outside.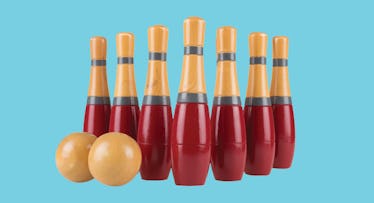 Labor Day has come and gone, a reminder that the time you can spend outside in shorts and sandals is dwindling quickly. Houzz is making it cheaper to enjoy the rest of your summer — and many seasons to come — with a big sale on a variety of different fun, family-friendly outdoor games. The site is offering everything from lawn bowling to cornhole, available now for up to 36 percent off. Here are our favorite picks for your next backyard hangout or beach day.
Hey! Play! Lawn Bowling Set
Avoid the alley and bowl some strikes right in your backyard. This lawn bowling set comes with 10 eight-inch tall pins and a wooden ball to knock them all down. The red, tan, and grey pins look sharp, and the fact that they're made of New Zealand pine, a soft wood, means that they'll show some cosmetic signs of wear but are still built to last. Grab it today and save about $5 off the original price.
GoSports Timber Jumo Toppling Tower Game
Each block in this oversized version of this Jenga-like classic tower stacking game is about seven and a half inches long, so the inevitable end-of-game collapse is that much more dramatic. You can play the traditional way, by removing and stacking blocks until the tower falls, or you can use the rules in the extended rule pack that's included in this set. It also comes with a canvas bag that makes transporting the game easy. It's over ten bucks cheaper than usual as part of the sale.
GoSports Giant Playing Dice Set
Here we have another huge version of a traditionally indoor game. This set of six 3.5-inch dice let you play Yahtzee in your backyard, or, for the al fresco gamblers, a particularly large version of craps. The dots are heat-stamped into the pine cubes for maximum durability, and they can be stored in an included bag. The dice are marked down by 36 percent as part of the sale.
GoSports Disc Slam Flying Disc Game Set
This set comes with two flying discs and two slam targets. To play, you set up the targets about 50 feet apart and try to shoot the disc into the slot in the target directly or float it above and have your partner slam it down into the target. The targets are collapsible and fit easily, along with the discs, into an included carrying case. It's an extremely fun, extremely competitive game similar to KanJam, and it's 10 percent off as part of this sale.
GoSports Golf Practice Hitting Net
This 70-square foot net is designed to let you practice everything from chip shots to full drives right in your backyard. The net is strapped to a lightweight but sturdy frame, and a ball return system makes it easy to shoot a ton of balls in a row without having to hunt them down in between shots. End even if you're not a serious golfer, it's still nice to get some aggression out with a few whacks in the backyard, especially for 20 percent off the normal price.
GoSports Slammo Game Set
This Spikeball-esque game is a fast-paced, compact sibling of volleyball that, like its inspiration, is a great beach game. The centerpiece of the game is a couple of feet-wide net that is stretched out a few feet above the ground. Teams of two volley the included 9 cm (for experienced players) or 12 cm (for amateurs and kids) balls back and forth off of the net, trying to spike the ball to make it more difficult for the other team to reach. It's a fun, competitive game that's also a real workout, and it's nearly 10 percent off as part of this sale.
GoSports Wood Washer Toss Game
Toss the metal washers into the 16 by 16-inch wooden frame or, for more points, into the PVC pipe hole in the middle of the frame. It sounds simple enough, but this game is maddeningly difficult to master. This set comes with two targets and eight washers, four red and four blue. The birch target is lined with felt to reduce bouncing and noise. No bag or case is included; instead, the targets cleverly latch together and attached handles make it easy to take on the go. It's on sale for about 40 bucks.
Top Dog Giant Connector Game
Yet another oversized version of a childhood classic, this game will be familiar to anyone who's ever played Connect 4, but instead of checker-sized pieces it uses palm-sized plastic discs. The frame itself is made of sturdy wood and comes with a detachable beam in the bottom that makes removing already-played discs at the end of the game a snap. This game is 22 percent off as part of the sale.
This article was originally published on