Hot Wheels' New Monster Truck Toys Are Old-School Cool
The toys have the same fat wheels and car-crushing charm but are made for modern play.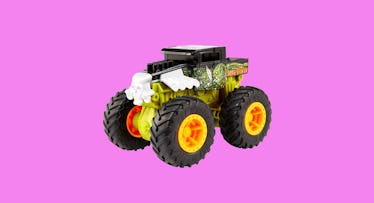 In the late 1970s, hair, platform heels and truck tires all had one thing in common: they were all getting bigger. The formerly niche sports of mud bogging and tractor pulling had gained popularity in America and, by the early 80s, Monster Truck culture was as popular as After School Specials. The OG Monster Trucks like Bigfoot, Bear Foot, and USA-1 paved the way for a sport that would become a cultural mainstay for tens of millions of spectators, and birth more than 500 distinct monster trucks. Hot Wheels has a new collection celebrating the sport of machine mayhem and, since big-wheeled trucks and kids are a match made in motor heaven, here are the sets to know.
Each truck in this series comes with a collectible wheel, and the packaging provides in-depth stats such as truck type, strengths, crash attack moves and "motor-vation" — aka what gets these trucks out of the garage in the morning. There are 16 to collect, which means 64 gigantic wheels, and a whole lot of smashing, crashing, and crushing.
Kids can kick up the dirt with these ground-pounding replica wreckers, each of which features four signature giant wheels and break-apart features. When these trucks collide with each other (or take a sudden detour down the basement steps) they bust apart into pieces of debris. Fear not, though, because they can be reassembled with a few clicks and snaps before being tossed back into battle.
A big-toothed shark awaits any driver unlucky enough to lose inside the gigantic circular arena. Opposing launchers dart 1:64 scale trucks across the ring, where they ram, jam, and ricochet into the air, hopefully landing in the prestigious trophy cup. An exclusive, break apart "Crash Recruit" vehicle is included with this set, designed to test your maritime mettle, and help kids chum the water before the action begins.
Big things do come in small packages. Each of these micro monsters comes with a unique key launcher that sends it screaming toward one or more of the 20 available options in this formidable fleet. Each one comes in a blind box, to enhance suspense and collectability, and is accurate down to the last 1:100 scale detail. Kids can collect the likes of "Dragon", "Pirate's Curse", and "Higher Education" at random.
The oversized bodies and tires of these collectible crushers are perfect for any sort of playtime terrain, and the replica paint jobs, decals, and accessories will add realism to any rumble. If you're having trouble deciding on a steering wheel to sit behind, allow us to recommend "All Beefed Up". It's meaty. It's beefy. It's a monster truck artistically modeled after a gourmet burger which, itself, is a rare medium but, in this case, quite well done.
Tiger Shark, the deep-sea destroyer. Hotweiler, the hot-rodding hellhound. Lion's Share, the maned menace. Chassis Snapper, the tough-truckin' turtle. Steer Clear, the beastly bovine. They're all part of this monster menagerie, guaranteed to raise the roadkill rate in your rumpus room. FYI: The "Lion's Share" included with this fearsome five-pack is an exclusive repaint. So, if you were ever going to snatch one of your son or daughter's toys and turn it for profit, now's the time.
This article was originally published on