The Hot Wheels Futuristic Racetrack Made Me Love Kid's Toys Again
Remote-controlled race cars have come a long way since you were a kid.
by Marcus Rodriguez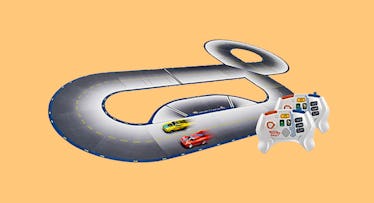 I don't remember when I stopped playing with toys. Or, at least, when playing with toys (and games) stopped bringing me a sense of childlike enjoyment. No, I do not want to play Twister. I don't enjoy Candy Land, although I'm good for a round. Yes, I'll build a Lego Bat Cave, but can we put it on a shelf when it's finished? When it comes to playing with my kids, I can be a bit of a buzzkill. That's why I buy my children electronics sets.
Still, I try to get excited when my kids invite me to play with their toys. Obviously, I enjoy spending time with them. But when one of my kids received the Hot Wheels Ai Intelligent Race System, essentially a high-tech race car set with artificial intelligence and semi-self-driving cars, I didn't need to feign enthusiasm. The starter kit came with two remote-controlled cars and twenty pieces of track for $100. Seemed kind of pricey (although it's much cheaper on Amazon), but the box promised both artificial and run-of-the-mill intelligence! It looked like fun.
Going from box to race was pretty straightforward. Step one: Prepare the cars. That meant dropping in the batteries ⏤ no big deal. Actually, sort of a big deal, but I'll speak more to that later. Step two: Assemble the track. Now, this was different. Unlike both traditional orange Hot Wheels track or slot-cars sets from my childhood, the track is made up of flat, flexible, sheets of plastic. Each shape has a letter designation and the instruction manual provides sample courses to build. We kept it simple, a nearly perfect oval. Step three: Race. Like I said, not tough. And by this point, I'm actually getting excited.
The cars and remotes are completely wireless, pair easily with one another, and look appropriately serious. We opted for 'Championship' mode on the 'Beginner' setting and placed our cars at the starting line. The countdown started, and we were off! It was spectacularly boring. True to its promise, the cars stayed on the track, but they crawled around in a fixed line at very unimpressive speeds. Somehow, I lost. Underwhelmed, but undeterred, we tried again in 'Advanced' mode. It turned out to be a major improvement, as the cars became quick and responsive to steering input. It was a real racing battle and we loved it. Not only that, but in this mode, the system's intelligence was on full display. Hot Wheels definitely found a way to blend the closed track and competitive race experience.
The controls aren't overly complicated and were a piece of cake for my 7-year-old to use, even though the set is marketed to 8-plus. Honestly, my 4-year-old didn't have any problems either, but if he did, I would have just taken it back to the beginner level. With 'Advanced' mode under our belts, we decided to take it up to 'Expert' mode ⏤ and that was when things got completely bananas. The car speeds immediately get dialed up to 11 (which scaled to a real race car is around 180 mph), and they can be quick to leave the track if you don't turn or slow down in time. They're also so much fun. At one point, I was making the cars do donuts. It was crazy. And with three race modes, over 40 track configurations, and the ability to go all Spy Hunter and launch virtual oil spills and tire blowouts while you race, we were just getting started.
If I had to find fault, I would start with the aforementioned batteries. It requires so many batteries ⏤ six AA and six AAA batteries total. Three for each remote and another three for each car necessitated a whole new set of high-performance rechargeables from Amazon before we could even get started. Another potential issue, the track is huge. Finding a place to spread it out without affecting normal traffic in our home was tricky. And for the kids, track assembly required some extra care since the pieces can be quite slippery. Finally, while pairing the cars with the remotes was easy, getting them to go into the same mode may require light adult intervention.
That said, I'll admit, I had fun. If you like racing cars and a little family competition, the Hot Wheels Ai is definitely a winner. You can also purchase extra track with raised sections, or more cars and themed bodies like the Batmobile, Mario Kart, or Indy Car to keep things interesting. And maybe, if you're anything like me, you too can find your way back to playing like a kid again. It'll be fun, I promise.