The Best Printers For Home Use With Cheap Ink
Because we're all WFH now.
by Jon Gugala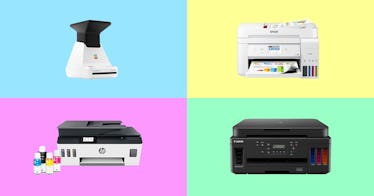 Since you've begun working from home and your children are cranking out classwork at your kitchen table, there's never been a greater demand for hard copies. The only thing that hasn't changed, however, is that old, dusty printer you inherited from your parents. Not only will it dribble out paper at a snail's pace, but you'll be running up your expenses on ink and electricity while losing your few remaining wits. Face it: You're going to have to find one of the best home printers available to handle this herculean load—and one that's as economically minded as you've become.
You may ask yourself, Is "inkjet" still a thing? What's the deal with laser printers? Then there are questions of its use, like whether you need papers in vibrant color (best for budding artists and tactile presentations) or a utilitarian monochrome. Regardless of your selection, today's printer manufacturers have all created tank-like systems that both hold a higher volume of goo (read: more pages) and are cheaper and easier to refill than ever before. So let the kids go crazy with first and second and fifth drafts. Print that TPS report in triplicate. With the options we've assembled, you can now afford to print to your heart's—and wallet's—content.
Every product on Fatherly is independently selected by our editors, writers, and experts. If you click a link on our site and buy something, we may earn an affiliate commission.
This article was originally published on