The Best Holiday Gifts For Her
by Dave Baldwin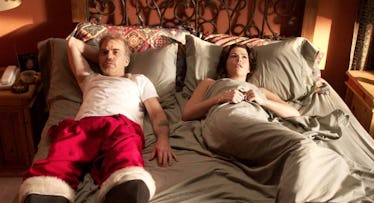 With all the running around at the holidays scoring the hottest toys for your kids, and getting the house ready for the in-laws, it's easy to forget about buying a holiday gift for the most important person in your life … yourself. Kidding! It's your wife. (You just failed the first test.) After birthing your child, taking the 3 a.m. feed, and changing emergency diapers in a gas station bathroom, you owe her big time. So, avoid the frantic race through JC Penney on Christmas Eve, and plan ahead with these holiday gifts for her that will get you 1/1000th of the way toward repaying her.
Joy Interactive Photo Album
Unlike those digital picture frames that cycle through the same old shots, Joy is a 13.3-inch HD touchscreen tablet specifically designed to consolidate images from all your social media accounts and devices, and handsomely shows them off to unwitting dinner guests who didn't actually ask to see them. The holiday gift sits on a wireless magnetic charging stand, and the battery reportedly gets about 5 hours between charges. That's just enough time to walk your dinner guests through your baby's first 100 days.
Fujifilm Instax Smartphone Printer
This second iteration handheld printer from Fujifilm shoots out credit-card-size, 320 DPI images from your smartphone or social media via the corresponding app and a decent Wi-Fi connection. And, like your kid eating ice cream, it does so with remarkable speed — 10 seconds a picture! Unlike your kid, however, it's actually quiet. You can even jazz up your shots with fancy filters and color adjustments, as well as templates that let you do stuff like split pics in 2 or create collages way better than those your third grader keeps bringing home.
Meural
Meural is actually more like the Netflix of museum-quality art than that Sharper Image digital picture frame you got but never used. Each 'smart' frame holds a 27-inch, Wi-Fi connected, high-definition screen that vividly displays classic and contemporary art and photography from Meural's vast, subscription-based collection. The built-in ambient light sensors adjust so image looks like on canvas, not liquid crystal. Display everything from French impressionism, to abstract art, to stunning modern landscape photography. It even has"Motion Art." Take that, the Louvre.
Liforme Travel Alignment Yoga Mat
How's a modern yogi supposed to balance career, kid, home, fitness, and mindfulness? Have a mat that acts as a cheatsheet for common moves, of course. Liforme's mat comes designed with a built-in alignment system designed to teach even the most advanced yogi how to properly stand and stretch. Liforme's Travel mat also comes with a bag for easy transport and durable non-slip padding. She'll never have to worry about improper Warrior II form ever again!
Minoux Spartan Bracelet
Handcrafted in Portland, OR, the Spartan bracelet is made out of solid bronze, bringing to mind both its minimalist style and Gerard Butler — which could be to your advantage. Tell her that Minoux also uses environmentally-friendly practices like using recycled metals, so theoretically this bracelet could be made from the shield of the ancient Spartan warrior. (Or just discarded third place Little League trophies.)
Mersi Paloma Carry-All Tote
Even if you carry your gym clothes around in a garbage bag, at the very least you understand your wife enjoys a high-quality, over-the-shoulder leather carry-all. This holiday gift shows effort: it's the Paloma Carry-All Tote from Mersi. Crafted from 100% vegan leather, this tote includes a laptop compartment and water bottle slot, allowing for easy organization. It's big enough (11.5 inches x 20.75 inches inside) to shove all her crap and your kid's crap, and still have room left over for your crap — without it looking like crap.
ShepsWool Chunky Knit Blanket
As Yoda once said, blankets lead to cuddling. Cuddling leads to spooning. And spooning leads to forking. (Not Yoda from Star Wars. Tim Yoda from college.) But considering you'll both be too exhausted from hosting family at the holidays for any of that, this ShepsWool handmade chunky knit wool number is also quite effective at keeping your wife warm when she inevitably falls asleep on the couch halfway through an episode of Orange is the New Black.
Artifact Uprising Layflat Photo Album
Because as cool as the Joy Interactive is, not everybody wants to look at family photos by swiping left or right. Artifact Uprising's Layflat photo album strikes a happy medium: this holiday gift is a traditional handcrafted photo album with up to 70 pages of ultra-thick paper and a customized foil-stamp cover. The pics inside, however, are digital shots that you upload using their online/desktop editor. It's available in 4 sizes and 10 colors, and can be on your coffee table awaiting unwitting holidays guests in only 10 days.
OXO On 12-Cup Coffee Brewing System
Many a husband has tried to give his wife an "appliance" only to spend Christmas in the doghouse. The literal one. But, nobody is going to open up this OXO coffee maker and declare the holidays ruined. The On Barista Brain has a lot of fancy bells and percolators. The holiday gift has a microprocessor-controlled brew cycle for a perfect carafe. It's one of the Speciality Coffee Association Of America's 10 certified home brewers (and those guys are snobs). And it features a Rainmaker Shower Head that saturates your grounds like they're at a fair trade spa. The only thing better would be a live-in barista — but that gets awkward, fast.