Gifts That Give Back: 10 Charitable Donations That Make Excellent Presents
Buy one of these gifts and you'll protect an elephant, buy a bike for someone in need, or help train a seeing eye dog on someone's behalf.
by Hudson Lindenberger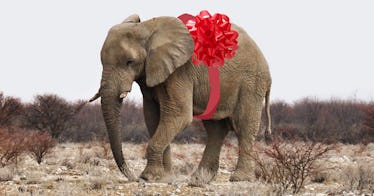 Not to be preachy, but it's good to give back around the holidays. Opening a card or digging into your stocking to see a note that reads "We have saved an elephant on your behalf" or "More than half the proceeds of this gift go to training guide dogs for the blind" is touching and, more so, an excellent way to remind kids that charity is a big part of the holiday season and charitable giving can — and should — be a tradition. So, to that end, we've highlighted a number of charities that treat your money well and offer gift-able ways in which to make a donation. Take a look.
The Wild Animal Sanctuary
Located in the plains of Eastern Colorado, this non-profit is the largest carnivore sanctuary in the world. It's home to over 450 lions, tigers, bears, and a mix of other carnivores that have been rescued from across the globe. There is a large rehabilitation facility that is open to the public, plus a 9,000-acre wildlife refuge that offers expansive areas for the animals to roam freely. For most of them, this will be their only home for the rest of their lives.
How to Gift: The Wild Animal Sanctuary offers three levels of animal adoption ($120, $240, $360 yearly) based on the size of the animal you choose to adopt in your gift recipient's name. They will send your giftee a frameable adoption certificate with a photo of their animal, as well as a recap of their story. You can pay it all at once or in monthly installments.
St Jude's Children's Research Hospital
From its founding in 1962 until today, St Jude's has existed to fulfill one basic mission: the eradication of childhood cancer. They have made significant inroads in lowering the percentage of death by almost 60 percent by leading the way in numerous treatments and research. Even more impressive is their vow to never deny treatment to any patient needing their help, regardless of their financial situation. In fact, due to individual contributions and donations, they don't even present families with a bill for services, ever.
How to Gift: The St. Jude gift shop has numerous items in a variety of price ranges that you can purchase as gifts. Or, you can simply donate a variety of medical procedures and items that directly help patients in someone's name.
The Elephant Sanctuary
Functioning as a retirement home for elephants that once worked in circuses and lived in zoos, this sanctuary located in the hills of Tennessee offers a place for these grand colossuses to live out the rest of their years in peace. They currently have ten African and Asian elephants animals living on 2,700 acres of land free from predators, both natural and manmade. To allow them to enjoy their new lives, the sanctuary is not open to the public and relies solely on donations to keep the gates open.
How to Gift: By donating $50 in your giftee's name, the Elephant Sanctuary will send them a certificate of adoption for a particular elephant along with a photo and bio telling their story. The recipient will also get monthly email updates and a triannual newsletter keeping them updated on all that's happening at the sanctuary. Visit their website for more information.
UNICEF
Working in over 190 countries and territories spread across the globe, UNICEF is one of the leading defenders of the most vulnerable people on Earth: children. Founded in the wake of World War II, they have led the fight to improve the lives and conditions facing kids and their mothers by improving sanitation, medical care, education, safety, and a plethora of other items. They accomplish this by having a large cadre of staff working daily on the ground in areas of need and heading to anywhere that they are needed.
How to Gift: Their online marketplace is packed with handmade items from around the world, most of which are made in the communities where they are working to improve conditions. You can find everything from dinnerware to jewelry.
Conservation International
As one of the leading voices in educating the world's leaders about the importance of maintaining the planet's health, and why it makes sense to protect it by adopting sustainable practices, Conservation International is making a difference daily. From their research on the effects of climate change, to their Ocean Health Index detailing the conditions of our planet's oceans, they provide the tools to ensure lawmakers make the correct choices and ecosystems survive.
How to Gift: Due to their extensive partnerships with corporations and communities, they offer a variety of gifts that are both unique and timely. Best of all, if you decide to donate cash, they will match it with funds offered from their pool of donors.
World Bicycle Relief
This non-profit has a pretty simple plan to improve the lives of those in need: provide them transportation in the way of a sturdy, well-designed bike. Since its founding in 2005, World Bicycle relief has given away over 400,000 bikes across Africa, South America, and Southeast Asia. By giving people bikes, they have allowed them access to education, healthcare, and better economic opportunities.
How to Gift: Their online store has a variety of bike-related items (clothing, tools, gear) that you can purchase that will help fund their mission for years to come.
World Wildlife Fund
The animals of the planet are struggling these days, and that's why donating to the World Wildlife Fund matters so much. As one of the pre-eminent voices calling for protection of wildlife and their habitats, they are making a difference daily. Through their diligent efforts, they have helped decrease illegal poaching across the globe, helped crank down on the clandestine wildlife trade, and helped educate locals on the importance of maintaining their local ecosystems.
How to Gift: Their website offers a variety of gifts you can give. There are clothes for kids, shirts for adults, and a plethora of other items. Our favorite is the adopt-an-animal program that lets you choose an animal to direct your donation towards helping. Your giftee will get a plush toy in the likeness of their animal, a certificate of adoption, and an information kit. Visit their website for more information.
Red Cross
Now more than ever, the Red Cross needs our help. Between the myriad of disasters striking here in the United States and elsewhere across the globe, they are continually on the front lines helping those in need. From erecting temporary housing for fire victims in California, to inoculating villagers in the backwaters of Africa against disease, they are a crucial part of the recovery system. Plus, the holiday season is their largest donation period that fuels their efforts for the rest of the year.
How to Gift: You can donate any amount in someone's name and Red Cross will let you print up a document to present to him or her at gift giving time.
Guide Dog Foundation for the Blind
As one of the leading providers of guide dogs to the blind, this organization has been helping those who can't see be able to live a normal life. The costs to train a guide dog are high, $50,000, yet this organization does not make the recipients of their dogs pay a penny. Donations and corporate giving cover every single dollar. Plus, they also train and provide service dogs to disabled veterans to help them live fuller lives.
How to Gift: Besides donating directly in your recipient's name, you can also visit their gift area where they offer a large selection of guide-dog-related merchandise you can purchase for people on your list.
Toys for Tots
Is there anything more heartbreaking than a child not getting a gift during the holiday season? We think not. Since it's founding in 1947 by a returning World War II veteran, this organization that's run by the United States Marine Corp Reserve has given away 512 million toys to children in need. By partnering with some of the biggest names in the toy industry, they ensure that children get new toys each holiday season.
How to Gift: Toys for Tots' holiday "In Honor Program" lets you make a donation in the name of someone and choose whether to send them a greeting card or an eCard.
This article was originally published on