Holiday Gifts: Best Gadgets, Electronics, And Tech Kids Toys
Great gifts for the tech-loving kid in your life.
by Dave Baldwin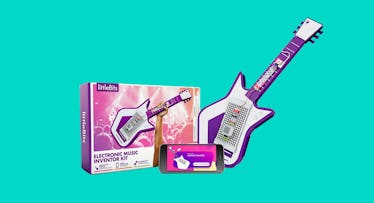 So your kid loves tech and gadgets. The good news is, there's toys a-plenty to keep his or her curiosity engaged.
Once upon a time, being a tech-savvy kid meant you were president of the A/V club, the Pac-Man high score holder at the local arcade, or the only kid who knew how to program the VCR. Not any more. Today, kids who love tech are playing with complex robots, building their own computers, and probably taking a computer science class or two at or after school.
The bottom line is that there are tons of different options for kids interested in tinkering and tech, including plenty of toys built around those activities. Our favorite gadgets, tech kids toys, and STEM toys will keep them busy for hours and maybe even teach them a thing or two. What parent wouldn't want that?
So you've got the next Bruno Mars or Mark Ronson in your family? Tap into that musical fascination with Specdrums, which are app-enabled musical rings that turn colors into sounds. You just connect to the Specdrum mix app and tap on anything to create and mix any sounds that play through your mobile device.
Vector is Alexa-enabled, so he truly is your home butler companion. If you set him up to work with Alexa, he can turn on your lights, and tell you the weather. Like a Roomba, he avoids obstacles and self-charges. Because he's connected to WiFi, he's always learning and updating with new skills and features. One thing he won't do: Play music.
Artie the coding robot connects to your wifi network, and you log into the Artie interface to drag and drop blocks of code into the command area. You then tell Artie to turn right or left, move forward or backward, and pick up or put down his pen to draw what you want. You can use preprogrammed shapes and games, or write your own custom code for Artie.
The kit comes complete with everything kids need to make a computer, and once they do there is plenty of content, from over 100 coding challenges to games to YouTube that will keep them entertained for hours. Kano World lets them access programs and other stuff made by Kano users around the world.
There's a nice combination of physical and digital play here, and kids will have a lot of fun adding photos, obstacles, and other digital features to their virtual reality mazes. The VR viewer that comes with this toy is made of cardboard, not the most durable material. Some reviewers said that adding double-sided tape to the blocks to make them stay in place was a tedious pain.
It's easy to assemble and disassemble the four different insruments, from a keytar to air drums. There are 12 different activities in the application, and stickers are included (because who doesn't love stickers?).
There's a wide variety libraryof content available, covering everything from science to history to astronomy. The novel way in which kids interact with it means that kids who aren't big readers could be more likely to engage with educational content. The VR goggles are sold separately, which is kind of a drag. Some of the apps in the Merge Miniverse, as it's called, cost additional money.
Works with pretty much any computer and comes complete with LED lighting and the ability to magnify up to 250x. Kids can look at live images on the computer and press the button on top of the unit to take pictures.
This is a very versatile toy, with so many different control schemes. You can even use it as a control to play games on a phone or tablet connected via Bluetooth to the device. It's also much cheaper than lots of the robots for kids on the market.
Comes with two mounts so kids can attach it to their various vehicles. There's also a waterproof case that let's them take photos and videos up to six feet underwater. There are also modes for stop-motion videos and time-lapse photos.
Every product on Fatherly is independently selected by our editors, writers, and experts. If you click a link on our site and buy something, we may earn an affiliate commission.
This article was originally published on