The 11 Best Stocking Stuffers For Kids & Family
And it contains zero socks.
by Dave Baldwin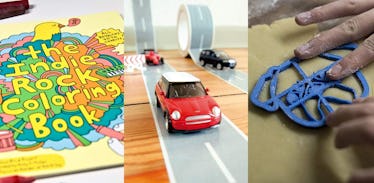 Considering they're little more than socks stuffed with small gifts, it's amazing how much stocking stuffers set the mood for Christmas morning. They can either build excitement for bigger holiday gifts to come or sour the spirit straight out of the gate; nothing like a kid too young to understand that socks aren't the only gift he's getting this holiday. So to help make that 5 a.m. start a festive one. Here are stocking stuffers for kids and families that won't have your loved ones asking, "is that it?"
Create A Road Tape And Car Playset
With all the duct tape you have lying around, you're probably pissed you didn't think of this first. Give the gift of 36 yards of sticky 2-lane pavement with the Create A Road tape and car set by Donkey Lab. Yeah, those little cars are pretty dinky, but this street will work with any Hot Wheels-sized toy. Because despite what Back to the Future predicted, we still need roads.
Stockpile
Instead of giving kids toys that only provide minutes of enjoyment, Stockpile lets you buy stock in major companies that will give them decades of dividends (not FDIC insured). There are two stocking stuffer options: buy a traditional card designated for a specific company (worth $25, $50, or $100, plus fees) at the local grocery store. Or, browse online through over 1,000 different stocks/indexes by ticker symbol or category ("sports," "fashion," "military-industrial complex"). The Dow just passed 20,000 — and there's no way that sucker's ever going down!
The Indie Rock Coloring Book
Your kid is well on their way to kindergarten hipster status with their insider-approved Kindie music playlist and SXSW ticket stubs. Complete the transformation with this coloring book featuring challenges like finding hidden birds in Devendra Banhart's beard or drawing whatever the cool new haircut is on the members of Rilo Kiley. They'll be an insufferable blogger the minute they learn to write! At least the publisher donates the royalties to charity.
Que Collapsible Water Bottle
This space-saving silicone bottle was designed by a couple of fashion-conscious, music enthusiasts eager to help reduce the use of plastic bottles at festivals. They were probably also thirsty. It comes in 20- and 12-ounce sizes (for you and for them), and is safe for hot and cold liquid. Most importantly, the stocking stuffer is made of food-grade silicone, totally unbreakable, and shockproof. Don't hesitate to say what you think of Trump in front of it.
CopyPastry 3D-Printed Custom Cookie Cutters
Because nothing says "Happy Holidays!" like fresh-baked cookies that look exactly like you! Or your daughter. Or even your dog. All you have to is upload a picture to CopyPastry, and they'll use a 3D printer to turn it into a personalized cookie cutter. Added bonus: Santa can ID your family from that plate you left for him.
ToyDriver
Open this mini battery-powered screwdriver of a stocking stuffer before you try to put batteries in your kids' toys. Nothing is more frustrating than your 5-year-old opening his RC car, only to find there are 4 tiny screws securing that AA-sized compartment. Phillips and flat magnetic screw bits that store in the base, and works in both forward and reverse. So, like a drill. But smaller.
Tie-Not Water Balloon Filler
Wonderful come summertime (and kind of deadly in the winter), this balloon-holding nozzle ensures your kids don't spend half the water fight fumbling with latex while dodging incoming fire. The Tie-Not's a simple 2-piece device that attaches to the garden hose and can fill/tie off a water balloon in three easy steps — or six seconds flat with a little practice.
EZE Cold Brew Coffee Maker
The EZE Cold Brew Coffee Maker Bottle is essentially the same shatterproof plastic water bottle you're already toting around in your messenger bag, but with a removable filter. Add coffee grounds (or tea leaves) to the built-in compartment, fill with water, and toss in the fridge for 8-12 hours. Or not. It brews just the same on the kitchen counter! Either way, you're waking up to coffee that's ready to hit the road well before your kids are.
ChordBuddy
Ensure your kid's not the one stuck dinging the triangle every day in music class by teaching them how to play the guitar with ChordBuddy. Billed as an "innovative guitar-learning system" (rather than a way to cheat at playing "Smoke on the Water"), the stocking stuffer attaches to the neck of most guitars and uses four colorful buttons to help teach students the basics of playing chords. Yes, just like Guitar Hero. As they improve, you can start taking away buttons. It also comes with lesson plans and an instructional DVD. Sadly, it does not come with a Slash-style top hat.
Kinsa Smart Thermometer
It's never been easier to know if your kid's faking that fever to get out of school for the day. Just fire up the smartphone app, plug the thermometer into your headphone jack, stick it under their tongue (or in their … you know) and get a reading in less than 10 seconds. The stocking stuffer is virtually unbreakable, compatible with iOs and Android devices, and the app can track, record, and save symptoms and medication information for up to eight profiles. There's more than enough reason here for Kinsa to bill itself as "the world's smartest thermometer," but really everything beyond "no Vaseline required" is pure bonus.
Silly Snap! Game
Like the personalized Lost My Name book series from the same British storytellers, Silly Snap! is customized card game that features your little player on the damn cards! It's designed for kids as young as age 3 and is played pretty much like Slapjack, but with an animal noise twist. Enjoy a Christmas morning where toddlers are running around going "Rooooaaar" or "Arrrrgh" or … whatever the fox says.
This article was originally published on