Holiday Gifts: The Best 'Star Wars' Toys, Figures, and Droids
These are definitely the gifts you're looking for.
by Dave Baldwin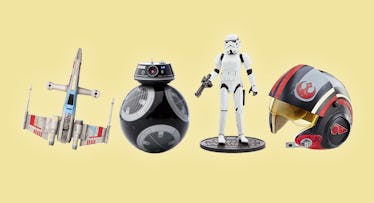 Given that Disney and Lucasfilm may release a new Star Wars movie every year for the next decade, it's entirely possible that Star Wars toys will sit atop your kid's Christmas list for the duration of their childhood. And with The Last Jedi slated to release in a matter of weeks, they should be in especially high demand again this year by kids and adults alike.
RELATED: The 20 Hottest Holiday Toys of 2017
But with every company trying to capitalize on the branded tie-ins (Star Wars cashews, anyone?), it can be tough to figure out which Star Wars stuff is legit and which is just a container of ordinary nuts pretending to be from a galaxy far far away. This list of Star Wars action figures, dolls, and droids ⏤ from indestructible lightsabers and R2-D2 coffee makers to Kylo Ren dolls and Porgs that talk ⏤ represent a few of the coolest Star Wars swag currently on the market, and make great holiday gifts. May the Force be with your holiday shopping.
KyberLights
Kyberlights are 320-lumen LED sabers made for real sword fighting from an almost indestructible plastic. Combatants can beat the hell out of them (and unleash some pent-up Kylo-Ren rage in the process) reenacting the final fight scene from The Force Awakens, and they won't make a dent ⏤ guaranteed. They light up in 20 different colors and boast "flash on clash" sound effects thanks to an internal circuit board and stereo speaker. Which means this holiday gift is going to look and sound like you're fighting with a real saber — at least in the dark.
Onit Star Wars Fitness Equipment
The ultimate irony of Jedi-inspired fitness gear is, of course, that the Jedi don't need to work out. Why would Luke spend hours pumping iron when he can move heavy objects with his mind? For everybody else, there's Omnit's latest set of workout equipment that includes kettlebells (in the likeness of Boba Fett, a Stormtrooper, and Darth Vadar), a "Han Frozen in Carbonite" yoga mat, and a 20-pound fitness ball holiday gift that looks like the Death Star.
Luke Skywalker's Landspeeder by Radio Flyer
The tike-sized version of Luke Skywalker's X-34 Landspeeder may not levitate, but it does have seats for two, an interactive dashboard with lighted buttons that command intergalactic sound effects, and a max cruising speed of 5mph ⏤ which makes it fast enough to outrun imaginary Storm Troopers and some real-life pets, not to mention a great holiday gift.
Big Figs 20-Inch Star Wars Figures
These super-detailed, 20-inch articulated action figures from Jakks allow kids to relive their favorite moments from both the Star Wars movies and the animated series, Star Wars Rebels. There are 13 characters available including Kylo Ren, Poe, Chewy, Return of the Jedi Luke, Han, and even Greddo, and each figure comes with their weapon from the series.
Bloxels Star Wars
Bloxels lets kids design their own video games simply by positioning multicolored blocks (which represent land, water, hazards, coins, etc.) on a 13-inch by 13-inch gameboard and importing a picture of the design into an app. Bloxels Star Wars, as you might imagine, lets kids create video games that include characters and action from the Star Wars universe. What more could you want from a holiday gift?
Hasbro Poe Dameron Electronic X-Wing Pilot Helmet
Short of sneaking your kid onto the Star Wars set, it doesn't get any more realistic than this collector-grade Poe helmet with three-internal speakers, built-in microphone, and retractable polarizing visor. Once on, you can activate X-wing aerial battle sounds or use voice commands to control Hasbro's BB-8 droid (sold separately).
Sphero's Star Wars Droids
Two new remote-controlled droids joined BB-8 in Sphero's Star Wars collection this year: R2-D2 and a dark-side BB-9E from The Last Jedi. Both 7-inch Bluetooth-enabled robots are controlled using an iOS or Android app and can be programmed to roam the Millenium Falcon and/or living room on their own. Thanks to working LEDs and an integrated speaker (plus access to all the sounds from Episode IV), Artoo even acts and beeps like the read droid ⏤ right down to the holographic simulation. All three get one hour of play on a single battery charge.
What was already one of Lego's largest kits at 5,195 pieces, the new Falcon now measures almost 3-feet by 2-feet (stands 8-inches tall) and comprises a whopping 7,541 pieces. Pop off the hull panels and you can get down to making stop-motion videos of Luke wielding his lightsaber or R2-D2 fixing the hyperdrive. This holiday gift includes a concealed blaster cannon, lowering boarding ramp, and a detachable canopy, and there's also a gunnery station from which the mini figurines can blast Tie-Fighters while waiting to make the jump to hyperspace.
R2-D2 French Press
This officially licensed, 32-ounce Star Wars-themed coffee maker has a glass carafe and stainless steel plunger-filter, brews four cups, and is dishwasher (but not microwave) safe. Your kids will love it and you can make the same good/bad/dad "this is the coffee you're looking for" joke every morning. Seriously, every … single … morning. It will always be funny.
These 9-inch Star Wars LED lamps will definitely (Jedi mind) trick your eyes as they transform from a flat piece of etched acrylic glass into an illuminated 3D hologram of a popular character (or ship) from the franchise ⏤ be it Darth Vader, BB-8, or the Millenium Falcon. They can toggle between one of eight colors (blue, cyan, purple, etc.), have a lifespan of 50,000 hours (or until they make three more movies), and are advertised as "limited-edition," even though they're seemingly sold all over the internet and don't appear to be in short supply.
These officially licensed Star Wars Battle Quad Drones use a "patent-pending reverse propulsion system with invisible blades" so when it makes the jump to lightspeed — or at least goes from 0 to 30 mph in 3 seconds — it actually looks like the Millennium Falcon screaming past the basketball goal. They boast a top speed of around 35 mph, a range of 200 feet, and come in four classic styles: X-Wing Fighter, the Falcon, Darth Vader's TIE Fighter, and the Scout Trooper speeder bikes from Endor. Coolest part, though, has to be the integrated laser tag. The holiday gift's remote control keeps tabs on shots, hits, and kills so you can fight real aerial battles.
littleBits Star Wars R2-D2 Droid Inventor Kit
If your kids enjoy inventing things using LittleBits' electronic building kits full of buttons, triggers, switches, wires, batteries, motors, and LEDs, then good Lord, imagine how much they're going to love building their own R2-D2. The latest Droid Inventor Kit provides step-by-step instructions for them to create a moving, talking and beeping custom Artoo, which can then be controlled via a smartphone. The $99 holiday gift also has adventures for them and their droid to explore together.
Star Wars Build-A-Bears
A stormtrooper can be a little too much for a young child, but a Storm Trooper Teddy Bear? There's nothing cuter. Which is probably why Star Wars teamed up with Build-A-Bear to create characters from a far, far, away place: Rey, Boba Fett, Yoda, and Chewbacca are now available in cuddly bear form. Not only that, but you can even customize your kid's Star Wars bear with clothes, sounds, and scents.
Star Wars: Jedi Challenges is an augmented reality (AR) game from Lenovo that lets users wear an AR headset to fight a hologram of Vader or Kylo Ren. From a spectator's POV, the player ⏤ who's wielding a badass-looking lightsaber and donning futuristic googles with motion-tracking cameras and an inserted smartphone ⏤ appears to be fighting by themselves against the air. From behind the headset, however, the lightsaber beams clash with every swing, the humming sounds are real, and Kylo's as angry and hotheaded as ever. It makes a great holiday gift.
Star Wars Destiny Dolls
Inspired by the Star Wars Forces of Destiny animated web series on Disney's YouTube channel, this line of posable 11-inch action figures come with weapon and removable/changeable outfits. Characters include Jyn Erso, Rey of Jakku (with BB-8), Sabine Wren, Princess Leia from Endor (with Wicket the Ewok), and Leia with R2-D2, among others.
The newest and cutest creature to come out of Star Wars since the Ewoks are invading the zeitgeist and your home this holiday. These 'life-sized' plushies sits 10-inches tall, can talk, and even recreate sounds from The Last Jedi.
It costs almost $9,000 and has to be shipped from Japan, but damn if this 'life-sized' remote-controlled R2-D2 mini-fridge putzing around your house making weird robot sounds and delivering you cold drinks while you re-watch every Star Wars movie with the kids wouldn't be out of this world.
This article was originally published on