Holiday Gifts: The Best Dolls, Toy Cars, And Action Figures
So much more than just Star Wars.
by Dave Baldwin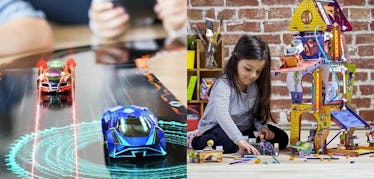 Bikes, board games, and basketballs are all fun gifts — every kid loves to get 'em. Building blocks and robots are cool too; can't argue there. But when it comes to toys that kids really clamor for — the toys that they snatch off the Target shelves during the holidays and lug around the entire store in tears begging their parents to buy — it always boils down to dolls, toy cars, and action figures. Here's everything that rolls, poses, or saves the day for your kid that has a vivid imagination.
Anki Supertrucks
Anki Overdrive is 50 percent slot cars, 50 percent Mario Kart, and 100 percent mindblowing. Each smartphone-controlled, intelligent robot car has a unique personality and driving style — plus customizable speed, defenses, and weapons. The new giant Supertrucks are three times the size of the original cars and come in 2 models: The Freewheel and the X52. They also feature an exclusive new game mode called Takeover. As you once learned in Days Of Thunder, rubbin' is racin'. It's a great holiday gift.
DC Super Hero Girls
Girls can be superheroes, too — and anything else, if you ask these 500 kids. This line features a new generation of wondrous women, inspired by classic DC heroes, who are honing their powers at a special school. Give some little Bat Girl or Harley Quinn (if they're more Suicide Squad than Justice League) one of these, and she'll be on her way to a standout college application. Under accomplishments: "Successfully defended universe from forces of unspeakable evil."
Toymail Talkies
If your kid is too young for their own phone, but still needs to leave important messages for friends, parents, and stockbrokers, Toymail Talkies are adorable stuffed animals that send and receive voicemails to a pre-programmed network of phones or other Talkies. To hear the Talkies themselves tell it, "It's a lot like a tin can telephone, but our messages travel over Wi-Fi. Not yarn." It's not a holiday gift as cheap as yarn, but still beats the hell out of buying your kid a phone or gluing them to a screen in order to stay in touch.
Hot Wheels Track Builder Sets
Here's a fun game: Give the kid a Hot Wheels race car holiday gift and … that's it. When they look at you like "that's it?", nonchalantly produce a few sections of orange track, loops, and launchers, as if you just had them lying around. Smile as disappointment is replaced with sheer elation. Watch die-cast cars flying around your living room. Repeat.
GoldieBlox Invention Mansion
How is she ever going to learn critical architectural skills and get into to MIT by age 16 if you build the damn dollhouse for her? Invention Mansion is a construction kit that teaches girls 6+ uber-essential STEM skills as they construct the dollhouse of their young dreams. It comes with two mini-figurines, 350 pieces, and a million (or, at least, a lot) of potential configurations, all of which can be tricked out with everything from bridges and balconies, to trap doors, ziplines, and climbing walls.
Automobolox
Automoblox (that's "Automobile" + "Blocks" — it's ok, not everyone gets it the first time) allows kids to customize their rides by mixing and matching modern design elements with old-school wood frames. Truly the ultimate toy car for the kid with neo-retro-chic parents. Available models include hot rods, police and fire vehicles, trucks, and even a sensible minivan for dad.
Sesame Street Love2Learn Elmo
As if your toddler wasn't already crazy about Elmo, this interactive version of the Sesame Street favorite not only calls them by name, but it also spits out over 350 responses based on personalized info you entered into the smartphone app. Elmo laughs, sings, plays learning games, and even encourages kids to pick up after themselves. That's right, Elmo puts himself away.
Modarri
The chassis, tires, and other elements of Modarri cars are interchangeable across the entire product line. It even uses real springs and linkages in their independent front and rear suspensions. So, between teaching your kid real-life car fixin' stuff and letting them feel the road when "driving" with their fingers, you'll have ample excuses to keep them away from the real thing for as long as possible.
Barbie Fashionistas
The new Barbie Fashionista line made waves recently for being Barbies that resembled real people. The audacity! The traditional, tall, petite, and curvy body shapes come in 7 skin tones, 22 eye colors, 30 hair colors, 24 hair styles, and 14 face sculpts — so every kid can find a Barbie to which they can physically relate. Doll collection makeovers are so this season. (At least that's what 4-year-olds at Fashion Week keep saying.)
Sago Mini Friends
Sago's open-play apps essentially exist solely to, well, exist. It lets kids play without specific objectives. The Sago Mini Friends app, for example, mostly just lets them roam around the neighborhood and ring doorbells if you want to go inside and eat pizza. Amazingly, that virtual experience is now available in plush doll form. The gift set comes with four popular characters (Harvey The Dog, Jinja The Cat, Robin The Bird, and Jack The Rabbit) and a reusable box that turns into a playhouse. Just check with the neighbors before letting your kid go door to door with their new toys, asking for pizza.
Green Toys Dump Truck
It's universally understood that kids love trucks. The fact that we're all not just rolling around in semis, honking horns and sporting sexy mud flaps is astonishing. But while you'd never put any part of a Mack truck in your mouth, these toy trucks from Green Toys are 100 percent recycled plastic that is BPA, PVC, and phthalate-free. Great for those young drivers who don't know the difference between a pacifier and a gear shifter.
This article was originally published on