10 Custom Holiday Gifts for Men That Will Make a Big Impression
From personalized art to one-of-a-kind accessories, these gifts all have a personal touch.
by Ian Centrone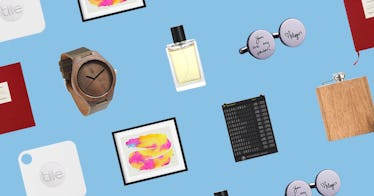 Finding the right gift is never easy. It takes time and thought and even then you see the disappointed expression when the wrapping paper is ripped off. But one trick to finding the right gift? Consider something customized with a personal touch. Even a guy who has everything probably doesn't have, say, a painter's rendering of his favorite song, cologne created specifically for him, or a watch engraved with a special date or phrase. In this list, you'll find those and more custom gift ideas that, we hope, will win over the man who's impossible to shop for.
Fielder's Choice Billfold Wallet
Everyone can appreciate a gift that's thoughtful and practical, and this leather wallet from Fielder's Choice combines the best of both worlds. What makes this billfold so unique is that each is constructed from full-grain U.S. steer hide, and the interior is made with an upcycled piece of baseball mitt leather. Even better? You can send in an old glove and have it repurposed into a wallet, which makes the everyday accessory a deeply personal keepsake that smells of summer and swings in the batter's box.
Customizable Outdoor Wooden Beverage Cooler
A high-quality cooler is essential for any home shindig, but why settle for a generic model when you can impress your guests with a one-of-a-kind wooden cooler? This option is made from sturdy fir wood and comes with lots of handy additions, like a side-mounted bottle opener, galvanized metal interior, and drain for easy cleanup. The hinged lid can be customized with a special message or logo, so you can have it read "Don't let the burgers burn" if you want to be cheeky.
Personalized Cufflinks
Cufflinks immediately add an element of polish and sophistication to any formal attire, and can really make a statement about the man wearing the suit. But instead of buying a standard pair straight off the shelf, invest in these stainless steel beauties from Etsy, which can be engraved with the handwritten message of your choice. Plus they come in a variety of shapes and finishes to match any man's personal style.
Stationary from Minted
In today's digital world of text messages and e-mails, there's something admirable about a man who still takes the time to write out an old-fashioned thank you note. Spring for the added wow factor with a set of custom stationery from Minted. This particular example is perfect for any guy who can't stay off the putting green, but the website also offers pages upon pages of other custom designs to perfectly capture any personality.
Customizable 6-Ounce Wood Flask
From concerts to camping to countless other occasions, a flask can come in handy when you least expect it. Be prepared with this six-ounce wooden flask from Woodchuck USA. The company specializes in manufacturing customizable wood products, and they plant a tree for every item sold (they've planted approximately 1.4 million trees to date). Snag yours in a variety of handsome finishes, such as cedar, walnut, or mahogany, then customize it with virtually any design imaginable.
New York Times Custom Birthday Book
Who doesn't love taking a stroll down Memory Lane every once and again? This unique gift comes in the form of a 12.5-inch by 15-inch coffee table book and offers a fascinating look into yesteryear. But what makes each custom-made book so special is that it begins with The New York Times front page from the day you were born, followed by every birthday since. Or, choose another meaningful date, such as a wedding anniversary. Other newspapers, like The Washington Post and The LA Times, offer similar products as well.
New Tile Mate Tracker with Personalized Skin
We all know the guy who is constantly misplacing his keys, gym bag, or cell phone. Help him out by introducing him to Tile Mate, the slim smart tracker that's Bluetooth-enabled and linked to an app, so nothing will ever be lost again. Give it a thoughtful spin by adding a personalized skin, made from premium 3M vinyl. From family photos to favorite quotes and more, no design is off limits and he'll be thanking you for years to come.
Handmade Song Art
Aspiring art collectors and music fanatics alike will surely appreciate this one-of-a-kind gift. The Etsy shop is run by an artist with synesthesia; a perceptual phenomenon where the stimulation of one sense triggers the automatic stimulation of another sense. In short, she is able to see sound in colors. Just choose your favorite tune and she'll use watercolors to visually translate the music into a custom piece of art, perfect for any home or office space.
Custom-Engraved Wooden Watch by Treehut
These custom-made, wooden timepieces from Treehut are sure to be a conversation starter, made with high-quality Japanese quartz movement, genuine leather strap, all-wood walnut dial, and stainless steel tri-fold clasp. While the watch is cool enough as a standalone gift, take advantage of their custom engraving to add a secret message for your loved one. The website also offers a wide selection of different colors, styles, and materials to suit every taste.
Bespoke Cologne from Waft
It's no secret — everyone likes to smell nice. But instead of just picking up a basic bottle from the department store display, why not try creating your own bespoke fragrance? Waft is an online scent lab that allows you to do just that. Hand select your favorite notes from their 40 highest quality ingredients, or follow their pairing recommendations to create a unique signature scent in a personalized bottle. They'll even throw in two additional complementary scents, and every order comes with a 100 percent, no-questions-asked return policy.
This article was originally published on