Holiday Gift Guide: 11 Bottles of Whiskey That Make Excellent Presents
These bottles are sure to satisfy every whiskey lover on your list.
by Nicholas McClelland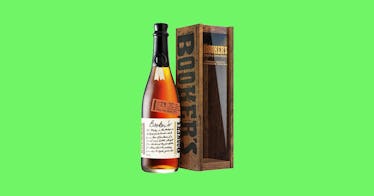 Finding the perfect gift can be a little rough, but if you have a whiskey fan on your list this year, nothing beats a special bottle they love or wouldn't otherwise buy for themselves. Whether they are daily sippers or just enjoy a rare pour, here are 11 bottles of bourbon, Scotch and Japanese whisky they will certainly appreciate.
Woodford Reserve
At around $30, Woodford Reserve punches way above its weight. A solid gift for bourbon lovers, it has enough flavor to sip neat and works well in nearly any cocktail you can come up with thanks to its amazing depth and balance.
Russel's Reserve Single Barrel
Since every whiskey barrel is different, single barrel offerings are a fun way for bourbon lovers to explore how wood makes the whiskey. Russel's Reserve Single Barrel is one of our favorites to both give and receive. "Alligator charred' American white oak barrels that give it yummy flavors of vanilla, spice, fruit, and toffee.
Old Forester 1910
An ode to a batch of whiskey that was nearly destroyed by a fire at the distillery in 1910, this Old Forester take this expression to the next level with extra aging in a second heavily charred barrel. The result is one made for bourbon lovers who enjoy thicker, sweeter whiskey balanced with char and oak.
Booker's
We look forward to each and every Booker's release with the same joyful longing as kid counting down the days till Christmas. Chances are, if you have a bourbon lover on your list for the holidays, they do to. True to form the current bottling, Kentucky Chew is a rich, luscious mouthful, loaded with Booker's hallmark vanilla sweetness.
Monkey Shoulder
A blend from of three malts from Speyside by William Grant combination, Monkey Shoulder is an affordable bottle that makes a great gift. Vibrant flavors of butterscotch, oak and a touch of grass make it a solid dram and an excellent mixer.
The Macallan 12 Sherry Oak Cask
Iconic not only as a single malt Scotch whisky but also as a classic gift bottle, The Macallan 12 Sherry Oak is sure to bring a smile to any Scotch lover's face. A dozen years in Spanish Sherry casks sourced from bodegas in Jerez gives it lovely notes of oak, fruit, and spice as well as a sweetness that makes it eminently approachable, even for whisky novices.
Ardbeg Corryvreckan
For the peat fan on your list, Ardbeg Corryveckan is a winner. Beyond a wonderfully thick layer of smoke lies a complex dram with lovely notes of sherry, dark fruit and pepper with a slow, lingering finish that lasts well into the next glass.
Glenmorangie Signet
If your Scotch drinker hasn't tried Glenmorangie Signet, treat them to a bottle they wont soon forget, and if they have, their bottle is likely empty and they can't wait for a refill. It's a deeply complex whisky with notes of dates, figs, nuts, vanilla and a subtle, satisfying smoke.
Nikka From the Barrel
A whisky only made available in the U.S. earlier this year, Nikka From the Barrel is a big flavorful blended Japanese whiskey at a reasonable price point that will delight Japanese devotee. Toffee, fruit and spice swirl around a big, pleasant dose of heat from the 103 proof.
Yamazaki 12
If you're got an aficionado of Japanese whisky on your list, you're going to have to work a little harder (or spend a little more.) But a tough-to-come-by bottle of Yamazaki 12 is sure to put a smile on their face. It's a buttery malt, supple in the mouth and rich in flavors or orange, spice and a succulent melon.
Lock Stock & Barrel 18 Year Old Straight Rye
This award winning rye whiskey owes its unique flavor to the fact that the double distilled 100 percent rye has been resting in charred new American oak barrels for an astounding 18 years. The result is a potent whiskey, that despite being 109 proof is complex, flavorful (you'll get notes of stone fruit and baking spice) and wildly easy to drink.
This article was originally published on