The 10 Best Holiday Gifts Under $50 This Season
The big guy in the red suit has the big stuff covered.
by Dave Baldwin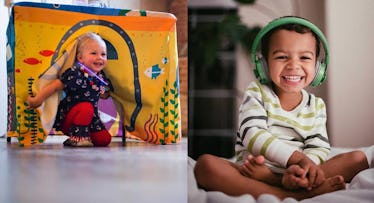 If there's one saving grace when it comes to buying your kids all those expensive Christmas gifts, it's that Santa thankfully picks up the tab on the big-ticket items. Whew! On the off chance that your St. Nick bills monthly at 10.24 percent interest, however, here are 10 must-have holiday gifts that cost under $50 each.
Peppa Pig & George Wiggle Giggle
As you are no doubt the best daddy in the whole wide world (and the funniest!), make your kid's whole Christmas with these cuddly, talking versions of their favorite book/cartoon characters, Peppa and Baby George. Not only do they snort, giggle, and wiggle (as well as kick their legs and swing their arms), but they also blurt out phrases like "I'm Peppa Pig" and "You're my best friend." With this holiday gift, your kid will adopt the faux-English accent in no time.
LilGadgets Connect+ Headphones
Music is one of the few things that kids actually like to share, and LilGadgets lets them daisy chain headphones together to form one giant kindie conga line. The foldable 'phones come in 5 colors and have a max volume of 93 dB (still safe, but designed to overcome car and air travel noise). There is one curious feature: An inline mic that let's your 2 to 7-year-old make important hands-free calls to — grandma?
Hideaboo Hideouts
If there's one drawback to letting your kids build epic pillow forts out of couch cushions, it's that sometimes you may actually want to sit on that couch. (Standing while watching television is only for untimely Games Of Thrones deaths.) These illustrated slip covers slide over ordinary card tables (the kind with the folding legs), turning them into cool-looking forts in a matter of seconds. No pillows, no sheets, no taping giant cardboard boxes together required. They come in 4 themes — Happy Camper, Submarine, Enchanted Castle, and Outer Space Rocket — and also feature a puppet backdrop in case your kid wants to reenact MacBeth with My Little Ponies. It makes the perfect holiday gift.
Coco Color Stylus
Think of the Coco as a 21st-century version of that fat 4-color click pen everybody wanted in elementary school. It's a giant, battery-operated writing implement that kids (7 – 12) can use to color/draw on any smartphone or tablet, using one of the 2 free apps. Actually, with 4 styles (pen, pencil, pastel, and paint brush) and 48 base colors, it's more like an entire art set. Each mode features 4 stroke sizes and each color includes 6 shades, for a grand total of "768 stroke, color, style, and size combinations." That's 768 crayons and markers you don't have to scrub off the damn floor.
KinderGuides
KinderGuides are essentially Cliff Notes to classic literature for 6-year-olds. Specifically, they're illustrated learning guides designed to teach your kids about iconic novels (Old Man and the Sea, Breakfast at Tiffany's, On The Road, etc.) you "read" in high school. Each book is illustrated by a different artist and contains kid-friendly sections about the author, plot, and main characters. Whether or not they discuss the significance of animal motifs related to Holly's untamed freedom, however, remains unclear.
Lomography Konstruktor DIY Kit
The world's first plastic 35mm SLR camera will teach your kid: 1) how to build, and 2) that film cameras were once a thing. The components pull apart from a sheet like an old model airplane kit, then snap and screw together to form a functioning camera with a top-down viewfinder, multiple exposure function, and detachable lens. Once assembled, you'll have to relearn where to get film developed. It's educational for everyone — and an excellent holiday gift.
Bell R2-D2 Bike Helmet
Yes, this is the droid helmet you're looking for. Unless you're looking for BB-8, in which case — it's here. Both helmets are made by Bell for young Star Wars fans with heads sized 48 – 54 cm. And they are for sale. Now, move along.
Ages: 4+
Threadsmiths Liquid-Proof Shirts
For the dad who'd rather put his kid through college than his dry cleaner's, Threadsmiths is a line of liquid-repellant shirts designed to withstand the fiercest attack of spit up, apple juice, or puréed beets a child could conceivably launch. They're made from 100 percent cotton and use "advanced nanotechnology" that absorbs sweat while forcing external dirt and curdled milk to bead up and roll off. Depending on the level of casualness you require for the big neighborhood holiday pizza party, these holiday gifts come in 3 playfully named styles: the Cavalier T-shirt, the 2-button, standard-fit Game Polo, and a classic long-sleeve dress shirt dubbed The Grind. (And not the fun one from 90s MTV.)
Harry Potter: Hogwarts Battle Game
Assuming you recently bought the new Harry Potter book and were, like, "WTF, I don't have time for a table read with my 11-year-old," here's something else that's news from Rowling & Co. This "cooperative deck-building" game (think Magic: The Gathering) brings everyone back to Hogwarts to defend the school from evil using spells, wizardry, and – if you're playing as Harry and Hermione — weird sexual tension.
Anker Portable Solar Power Charger
You may envision your camping or beach adventures as off-the-grid trips back to nature. The family probably doesn't agree. But rather than power up your phones and tablets back at the car, plug them into this compact 15W portable solar charger and let the sun get to work instead. Since science can be confusing, just know that the holiday gift uses a PowerIQ system to charge devices fast (up to 2.1 amps), features dual USB ports, and boasts elastic loops so you can attach it to an umbrella, chair, or a bigger array of chargers.
This article was originally published on