Hipcamp Is Airbnb For Campers
People with land, meet people with tents.
by Dave Baldwin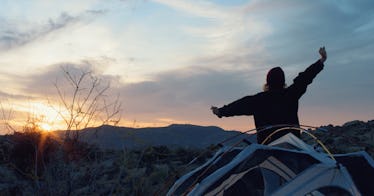 Honestly, if you just started thinking about that big summer camping trip with the family, you're probably already too late to score a prime campsite ⏤ those spots go early, dude, come on. Which leaves you two options: get the kids up at the butt crack of dawn to fight for a first-come/first-served site in Yellowstone. Or use this Airbnb-style service to lock down an equally awesome (and probably much quieter) campsite without the hassle. Essentially, Hipcamp lets people with land rent it to people with tents. From "ranches and farms, to vineyards and nature preserves," there are over 280,000 campsites listed across the country on both private and public property. And much like Airbnb, all you do is find a spot to your liking (on a beach? on a lake? In somebody else's backyard?), fill in your dates, and request a booking. Everything, including the price per night, is coordinated with the owner.
Even better, with Hipcamp, your family's likely to get the run of the land ⏤ so, no dealing with crowded campsite bathrooms or too much late-night noise when you're trying to soak in the solitude of the great outdoors. There are also spots with cabins, yurts, tipis, and treehouses, in case your new Qube interconnected tent doesn't arrive in time. A couple of choice locations include a cranberry marsh in Maine, a farm in Texas, and even Colter Bay in Grand Teton National Park.
Finally, assuming you own property other than your suburban Akron patio (although, honestly, you can probably rent it too), you even jump in on the action and make a little "stay-at-home dad" side cash by renting it out to other campers. Up to you. Whatever you do, though, do it now ⏤ the summer's almost here, man, and your kids don't want to wake up at 4 a.m. on vacation. (Make a reservation)
This article was originally published on