A Running List of Dangerous High Chair and Booster Seat Recalls
There have already been two big high-chair recalls this year. Check to see if yours is one of them.
by Dave Baldwin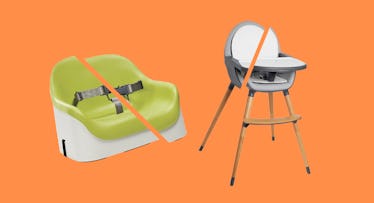 On average, more than 100 toys and kids products are recalled each year due to defect. Last year, however, high chairs and booster seats didn't crack the list. Not one chair was recalled. Unfortunately, the same can't be said for 2018, which has already seen two recalls of defective chairs in the first three months: the Skip Hop Tuo and the Graco Table2Table 6-in-1. Both have unstable legs.
In almost all cases, high chairs are recalled for one of two reasons: 1. They can fall over; or 2. The child can tumble out. Regardless of what part on the chair isn't working properly, the danger posed to babies is almost always a falling hazard. Fortunately, high chair fixes are often easy and require little more than a repair kit and new part. The chair may be out of order temporarily, but rarely does it need to be returned to the store.
According to multiple government agencies who keep tabs on safety recalls ⏤ most prominently the U.S. Consumer Product Safety Commission, which has jurisdiction over more than 15,000 kinds of consumer products ⏤ there have been six high chairs or booster seats recalled in the last three years. Since chairs and boosters tend to have a long life, or get pulled back into service with a new baby after some time in the basement, we've included them all on this list ⏤ just in case. Here are the ones you need to watch out for.
Note: If you have a problem with a dangerous product or a product-related injury, you should report it to SaferProducts.gov or call CPSC's Hotline at 800-638-2772.
Graco Table2Table 6-in-1 Highchairs
Hazard: Rear legs can pivot out of position posing a fall hazard
Number Recalled: 38,200Recall Date: March 1, 2018Action to Take: Contact to free repair kitContact: gracobaby.com/recalls, 800-345-4109 The Table2Table 6-in-1 (model number 1969721) is a popular high chair that converts from infant chair to booster seat to toddler chair and table. Unfortunately, the rear legs on up to 38,200 chairs can pivot out of position and cause it to topple. So far, the company has received 38 incidents of wobbly legs and five reports of "children falling out, resulting in minor bumps and bruises." Full Recall Details
Skip Hop Tuo Convertible High Chairs
Hazard: Front legs can detach posing a fall hazardNumber Recalled: 9,900Recall Date: January 9, 2018Action to Take: Contact to replaceContact: skiphop.com, 888-282-4674 Skip Hop's Tuo convertible high chair came out last year and has an issue with the front legs, namely, they can fall off. It's happened on 13 chairs and two kids have been bruised as a result. The style numbers are 304200 and 304200CN and affected chairs were sold between December 2016 and September 2017. Full Recall Details
Nuna ZAAZ High Chairs
Hazard: The arm bar can bend or detach posing a fall hazard
Number Recalled: 5,950Recall Date: February 11, 2016Action to Take: Contact for replacement partsContact: nuna.eu/usa, 855-686-2872 While only 6,000 Nuna ZAAZ chairs are subject to recall, they span eight different model numbers — so be sure to read the full recall details for specifics. Six children have fallen from the chair (four of whom were injured) as a result of a defective arm bar which can be replaced after requesting the free repair kit. Full Recall Details
OXO Nest Booster Seat
Hazard: Stitching on the restraint straps can loosen posing a fall hazard
Number Recalled: 25,130Recall Date: May 21, 2015Action to Take: Contact for repair kitContact: oxo.com, 800-545-4411 Sold in green, pink, taupe, and orange at buybuy Baby and Toys 'R' Us/Babies 'R' Us (as well as Amazon), the OXO Nest Booster has defective restraint straps that may release if a child pulls out the stitching. Five kids have already done so, although, thankfully, none gotten hurt. Customers can request a free repair kit that includes redesigned safety straps. Full Recall Details
Mima Moon 3-in-1 High Chairs
Hazard: Seat can loosen and dislodge posing a fall risk
Number Recalled: 1,470Recall Date: February 5, 2015Action to Take: Contact for replacement parts or refundContact: mimastrollers.com/mima-product-recalls, 800-392-1206 In addition to being sold in 11 states between February 2014 through September 2014, the Mima Moon was also given away to guests on the Ellen DeGeneres show. The CPSC included that detail in the recall notice. There are two issues with the space-aged chairs: 1. the seat can loosen and dislodge; 2. the chair can easily fall over if a child is crawling underneath it. The fix is a new upper chair section that the company will provide for free. Full Recall Details
Safety 1st Decor Wood Highchairs
Hazard: Kids can remove the tray, posing a fall hazard
Number Recalled: 35,000Recall Date: October 8, 2015Action to Take: Contact for replacement trayContact: safety1st.com, 877-717-7823 The Safety 1st recall may be 2.5 years old but, as it affects 35,000 chairs, is still worth noting. Especially considering the defect is so basic: Kids can take off the tray and fall out. And 68 kids have done just that, 11 of whom were cut, bruised, or chipped a tooth in the process. The wooden A-frame chair comes in one of three colors and requires a new tray to work properly.Full Recall Details