Hexbug's Robotic Soccer Is Basically Live Action 'Rocket League'
This analog version of car soccer is sure to be a hit with kids who love the uber-popular video game.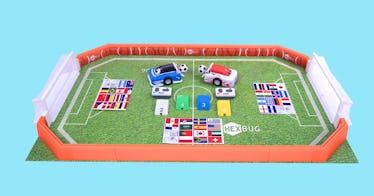 The video game Rocket League has sold millions of copies based off such a simple, yet brilliant conceit: It's soccer, but with cars. In a dome. Now, toymaker Hexbug is trying to capitalize on the proven popularity of "soccar," with its Robotic Soccer Arena and Robotic Soccer cars. Basically, they're miniature remote-controlled cars that can dribble, pass, and shoot marble-sized balls within an arena.
Each Hexbug Robotic Soccer car is a little less than four inches long and runs on three included AAA batteries. The remote control runs on two LR44 watch batteries (also included) and has five buttons: forward, backward, left, right, and kick. This last button activates a flipper on the car that taps the ball out of an open rear compartment, hopefully to a teammate or into the back of the net. The ball and the compartment are magnetic, so its easy to secure the ball and "dribble" around until you're ready to "kick" it with the flipper.
There are currently three different robotic soccer sets to choose from: a single car, a two-car set, and a full arena that comes with two cars, goals, a fold-out "field," and walls to help keep your game contained. The field is large enough to handle a 2 on 2 match.
Each set comes with the necessary batteries and different colored tops and stickers (mostly of country flags) so kids can customize their cars.
Prices range from $30 for the single car to $70 for the arena set. All three sets (and a cache of replacement remote batteries) are available on Hexbug's website.
Every product on Fatherly is independently selected by our editors, writers, and experts. If you click a link on our site and buy something, we may earn an affiliate commission.