This Heated Folding Chair Proves Your Tailgating Chair Sucks
No butts about it. Keep your ass warm and your drinks cold.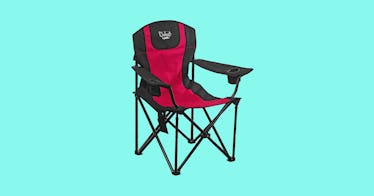 Tailgating is a chilly business. Anytime you're spending hours sitting (and eating, imbibing, and talking) you're thoroughly exposing yourself to the elements. You can bundle up all your want, but the cold will find a way to creep in.
That is, unless you have a heated folding chair.
Yes, thanks to Chaheati, a brand that specializes in heated outdoor gear, such a thing exists. The Chaheati All-Season Heated Chair, the new pre-game must-have, has four temperature settings that connect to heated coils in the seat of the chair and warm it up. Meaning your tush will be tailgating in supreme comfort. It's resistant to the elements, so it won't get moldy or nasty.
Oh, and it claims to be the only heated portable chair that uses a woven heating technology, instead of coils, which means it's damn comfortable. And it's powered by a lithium-ion rechargeable battery that lasts for hours. Plus it comes with its carrying case. It's got push-button controls, and it weighs about 12 pounds.
Cheers to all that.
Every product on Fatherly is independently selected by our editors, writers, and experts. If you click a link on our site and buy something, we may earn an affiliate commission.
This article was originally published on