The New Hatchimals Wow Is a Super-Sized Unicorn-Llama Monster
It's a bizarre blend of llama and unicorn.
by Donna Freydkin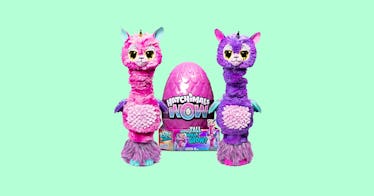 Hatchimals, the original nurturing surprise toys, have gone supersized. And the new iteration is a somewhat unholy blend of llama and unicorn. But it does have a pretty dope new feature that will either be enchanting, or highly irritating, depending on your tolerance level.
Unlike the one and done Hatchimals of the past, this new one is the first one kids can re-hatch. How? You just put her back in the egg and she'll greet the world with one of her 10 moods. When she's ready to emerge, in about five minutes or less, the Hatchimal Wow will stretch out her neck and push the egg top off.
Ah, the neck. Like E.T. (remember him), this toy has a neck that extends and then shrinks again. To be exact, the neck can grow to be 32 inches tall. That's 2.6 feet, if you're nasty. It comes in either purple or pink, but kids won't know which one they got until the egg hatches.
Like the accursed Furby Connect (which famously did not have an off-switch), the Hatchimals Wow makes noises. A lot of noises. She's programmed with 250 sounds and reactions. She shrinks down when she's held. Oh, and she sings.
This toy is great for kids five and older.
Every product on Fatherly is independently selected by our editors, writers, and experts. If you click a link on our site and buy something, we may earn an affiliate commission.
This article was originally published on