Hatchibabies Unboxing & Toy Review
Hatchimals are back with new moving eggs! In this episode of Fatherly "Reviews," Joshua David Stein hatches his very own Hatchibaby. Your children can rub, tap, and hug the egg to trigger different cute responses and sounds while waiting in suspense for their Hatchibaby to come to life. If the egg is placed on a... View Article
by Fatherly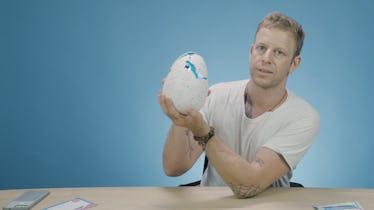 Hatchimals are back with new moving eggs! In this episode of Fatherly "Reviews," Joshua David Stein hatches his very own Hatchibaby. Your children can rub, tap, and hug the egg to trigger different cute responses and sounds while waiting in suspense for their Hatchibaby to come to life. If the egg is placed on a flat surface, you can see it shake as it prepares to hatch. When the eyes light up through the shell, it's time for you to find out if you have a boy or a girl. You can get a Ponette, a Chipadee, or a Cheetree!
A Hatchibaby can take up to 25 minutes to begin hatching, and once it's ready, it can take up to 15 minutes to complete the hatching. These realistic steps can help your children to understand the actual birthing process in nature. While the time may seem long, your kids can have an interactive experience and help the Hatchibaby while it's hatching. The Hatchibaby will start pecking when it's ready to hatch, and you can help it by breaking away any leftover parts of the egg and pulling the top off the egg.
Inside the egg of every Hatchibaby comes a bottle, high chair, hairbrush, rattle, and cuddle buddy. Each of these items can be used with the Hatchibaby to trigger different responses. To feed your baby, place it in the high chair, put the bottle to its mouth, and watch its mouth move as you feed it. Rub the rattle on the baby's tummy to get it dancing, or style the baby with the hairbrush. When it's naptime, use the cuddle buddy to help rock it to sleep.