HatchiBabies Are Here to Dominate the Holidays
They hatch, giggle, sleep, and fart, and they're going to be one the most popular toys this holiday season.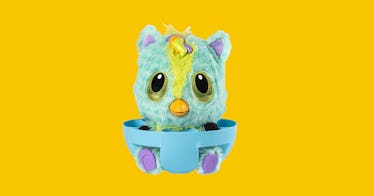 The only thing cuter than a squealing, brightly colored creature that hatches from a toy egg is a baby version of a squealing, brightly colored creature that hatches from a toy egg. Just in time for the holiday season, HatchiBabies have arrived. The latest version of Hatchimals, the electronic pet–surprise toy combo that dominated the 2016 holiday shopping season, looks to be an extremely hot commodity this year as well.
Just like the original Hatchimal, kids need to rub, tickle, and hold their Hatchibaby egg when they first get it. They'll hear some giggling from the inside and see their HatchiBaby's eyes glowing in different colors. When the eyes start glowing rainbow colors, it's time to hatch. Rubbing the bottom of the egg encourages it to hatch, and eventually the top of the shell will start to crack. Kids can remove any extraneous pieces of shell and pull out their baby Hatchimal creature. At this point, they'll learn if they have a boy, Ponette, or a girl, Cheetree, as "Hatchy Birthday" emanates from the built-in speaker.
The bottom of the shell becomes their HatchiBaby's "nest," and it's full of accessories. There's a bottle, a rattle, a cuddle buddy (a toy for a toy!), a brush, a high chair and a secret message, essentially a sticker kids can affix to the included birth certificate, which also has a place for them to write the name they choose for their HatchiBaby. The accessories have specific uses. A hungry HatchiBaby responds well to the bottle being placed on its mouth while a rattle makes it dance. Brushing a HatchiBaby's fur causes it to coo. You get the idea.
Kids know what their HatchiBaby is feeling based on its eyes. They glow a different color for each specific mood, prompting kids to react. For example, orange eyes indicate gassiness, signaling kids to rub their HatchiBaby's bottom to burp it. There are also a bunch of games kids can play, from Peek-a-Boo to memory-based games. A HatchiBaby can also repeat what kids say, using their abnormally high voices.
We don't know why Hatchimals were such a big hit, but we're confident that HatchiBabies are going to be a successful sequel and one of the most difficult-to-find toys this holiday season. Our advice: Avoid the chaos of the mall and the price-gouging of the resale market. If you want to get a HatchiBaby for your kid, get one as soon as possible.
This article was originally published on