Hasbro's Crazy Iron Man Mask Lets Your Kid See the World As Tony Stark
And fight Thanos in augmented reality.
by Dave Baldwin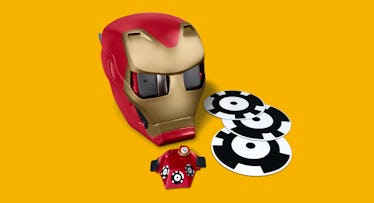 It's one thing to don a mask and pretend to be Iron Man. It's another thing entirely to become him, to see what he sees, to control his every move. Especially, if you're a kid who's obsessed with Tony Stark. Hasbro's new Hero Vision Iron Man AR Experience, set to hit stores to coincide with the release of Avengers: Infinity War movie this spring, lets kids do both.
At its most basic, it's an analog Halloween mask that they can wear around the house while pretending to be Iron Man. The eyes are bigger than other masks, but nonetheless, it'll work just fine. That's actually its secondary function, though. First and foremost, it's a 10-level AR game in which kids become Iron Man and try to defeat Thanos, not to mention any enemy who crosses their path. The mask houses a smartphone, which is running an Android/iOS app, and acts like a virtual reality headset, except it's augmented reality since the phone's camera can see through said giant eye holes.
Players wrap a gauntlet around their hand which they then raise and point to shoot and destroy opponents in their line of sight or defend themselves from incoming attacks. It's somewhat similar to Lenovo's Star Wars: Jedi Challenges, which lets users fight Kylo Ren in an epic lightsaber duel, except it also comes with AR markers that are placed around the room or yard and register as the enemies on screen. Users will also be able to print off additional markers should kids lose them, and Infinity Stone tokens will be sold separately later.
Another cool feature for parents is that the game imposes mandatory breaks after three levels, or ten minutes. During the breaks, kids are required to take off the mask and adjust their armor settings. The goal being, of course, is to keep from losing kids in hours of virtual gameplay.
The new Hero Vision is Hasbro's first foray into AR technology, and the company is unveiling it at this weekend's Toy Fair in New York. Again, it's due to be released in the spring and will cost $50.
This article was originally published on