Hasbro Unveils 6 More 'Solo: A Star Wars Story' Toys
Including a Nerf version of Chewy's blaster and Han Solo Monopoly.
by Dave Baldwin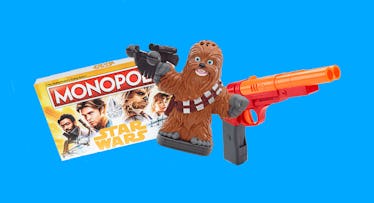 With the new Solo: A Star Wars Story slated to hit theaters Memorial Day weekend, there's been a slow drip of announcements about related toys since January. And while Lego has made a big splash with the Kessel Run Millenium Falcon, Moloch's Landspeeder, and new mini figs, Hasbro hasn't been far behind, revealing a number of cool action figures and weapons at this year's Toy Fair.
This morning, Hasbro pulled the curtain up on six more, as-of-yet-unseen, Solo toys from Nerf, Play-Doh, Bladebuilders, and Monopoly. And while they won't hit store shelves for a few weeks, here's what Hasbro's Solo: A Star Wars Story toys look like.
Nerf Glowstrike Chewbacca Blaster
Hasbro already unveiled a Nerf version of Han's iconic blaster in February so this battery-powered, double-barrel Chewy blaster has been highly anticipated. It shoots two glow-in-the-dark darts at the same time (up to 75 feet) and features light and sound effects inspired by the movie. It costs $40.
Star Wars: Han Solo Card Game
This new game is all about drawing cards and collecting the most valuable bounty tokens, one of which is the Millenium Falcon. It's targeted to kids 8+ and costs $20.
Nerf Glowstrike Qi'ra Blaster
Qi'Ra is a mercenary outlaw in the new movie played by the Mother of Dragons herself, Emilia Clarke. This double-barrel, front-loading pistol that shoots glow-in-the-dark darts is her weapon of choice.
Bladebuilders Electronic Riot Baton
This $30 First Order riot baton from Star Wars: The Last Jedi rocks extendable prongs and movie-inspired light and sound effects.
Play-Doh Chewbacca Set
Essentially, Chewy as a Chia Pet, this $15 Play-Doh set lets your favorite Wookie grow an even fuller head of hair. Simply, fill the body with dough and press down on the arms. And when his locks get too long, it includes a pair of BB-8 scissors to give him a trim.
Star Wars Monopoly: Han Solo Edition
Forget Boardwalk, the Millenium Falcon is the prize spot in this version of Monopoly that highlights memorable moments throughout Han Solo's life.
This article was originally published on