The The Best New Toys from Hasbro's HASCON Convention
It's a three-day celebration of all toys Hasbro.
by Dave Baldwin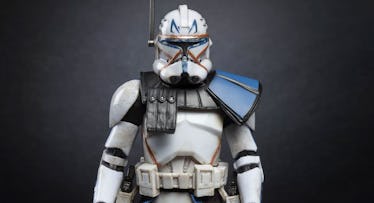 Since the massive success of ComicCon and its brethren, it seems every brand is getting in on the (long) Con game — and honestly, we're okay with it. Especially if there are so many rad debuts. Hasbro's convention, dubbed HASCON, kicked off today in Providence, Rhode Island, and fans of Nerf guns, Transformers, Star Wars, Play-Doh, and the toy company's other brands couldn't be more excited. There are performances by Flo Rida and Daya. There are panel discussions with Mark Wahlberg, Stan Lee, and the dudes from Dude Perfect. There are discussions about Star Wars and G.I. toys! Hell, there's even the chance to meet Red Sox and Pats players (Hasbro is nothing if not New England proud).
Of course, athlete autographs and celebrity appearances just the icing on the kids toy cake. The show includes tons of toy-related exhibits and activities. There'll be a custom-built NERF battle arena, a spot dedicated to Dungeons and Dragons, and even an area to learn how to play Magic: The Gathering. The big sell for toy collectors, however, has to be the release of some exclusive new products. Here are a few that fans have been pining for:
Star Wars: The Black Series 6-inch Clone Captain Rex
This collector's grade Captain Rex figure comes with four blasters, a removable helmet, and 28 points of articulation.
Transformers: Optimus Prime Converting Power Bank
So long bland backup batteries. When not charging your phone, this special-edition power-bank-in-disguise transforms into Optimus Prime. Autobots, prepare to defend from premature power drainage!
Marvel Comics: Uncanny X-Force Deadpool Figure
Another collector's grade figure, this 6-inch Uncanny X-Force comes with three blasters, two katana swords, and a rocket launcher. He's also tricked out in an alternative outfit.
If you want to see them all up close, single-day tickets for HASCON are still available and cost $60 for adults and $30 for ages 3-15 (kids under age 2 are free). They can be purchased at the door or on the HASCON website.
This article was originally published on