The 8 Best Harness Booster Seats for Older Kids
They're the safest option for growing kids.
by Fatherly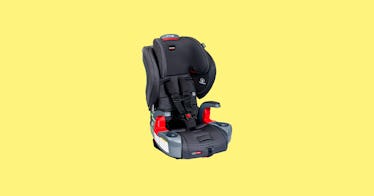 When kids outgrow their regular convertible car seats, they'll start to insist that they're way too big to be restrained like toddlers and don't need a car seat. But here's where you, the parent, ignore them. Kids should stay with each type of car seat as long as possible, preferably until they reach the seat's weight limit. That's where the harness booster seat comes into play.
The traditional booster seat is a belt-positioning booster — it uses a seatbelt to keep your child restrained — whereas a harness booster seat uses a five-point harness, like the one on infant and toddler car seats, to keep your kid in the right position. In a perfect world, kids would remain in the right upright position for the duration of the ride. But kids are kids, and they poke siblings, slouch, drop toys, and lean over to grab a bottle of water. A harness booster seat leaves much less margin for error, keeping them positioned correctly in the event of a crash.
The American Academy of Pediatrics doesn't mince words in its guidelines: "Any child who has outgrown the rear-facing weight or height limit for her convertible seat should use a forward-facing seat with a harness for as long as possible, up to the highest weight or height allowed by her car safety seat manufacturer. It is best for children to ride in a seat with a harness as long as possible, at least to 4 years of age. If your child outgrows a seat before reaching 4 years of age, consider using a seat with a harness approved for higher weights and heights."
And when your child does outgrow a harness-booster seat, you can make the switch, per the AAP: "Booster seats are for older children who have outgrown their forward-facing seats. All children whose weight or height exceeds the forward-facing limit for their car safety seat should use a belt-positioning booster seat until the vehicle seat belt fits properly, typically when they have reached 4 feet 9 inches in height and are 8 to 12 years of age."
The best harness booster seats are easy to install, will last you until your child is roughly 100 pounds, and let you adjust the harness and headrest together, without the need for rethreading. Plus, they weigh less than convertible car seats, so they're instantly more portable and easier to move between vehicles.
Every product on Fatherly is independently selected by our editors, writers, and experts. If you click a link on our site and buy something, we may earn an affiliate commission.