7 Scary Halloween Decorations to Make Your Front Yard a Fright Fest
From inflatable monsters to skeletal mammoths.
by Hudson Lindenberger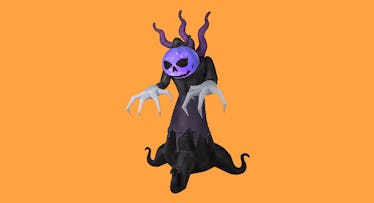 Halloween is the season of pumpkin pails, sugar rushes, and pets wearing costumes. But it's also the season of going big on yard decorations: besides Christmas, Halloween is the one time when it's socially acceptable to display the spirit of the season all over your front lawn. Whether you want to scare the crap out of trick-or-treaters or just place some fun props in your yard for ambiance, this selection of inflatable monsters, eyeballs, and skeletal mammoths has something for you. Take a look.
Lowe's Lighted Reaper Halloween Inflatable
At nine-and-a-half feet tall, this reaper is big enough to be the centerpiece of your yard decorations, will sway back and forth in the wind, and is spooky enough to stop kids in their tracks without bringing them to tears. Once plugged in, it fully inflates in 20 seconds and has a swirling "fire and ice" light effect.
Home Depot Animated Skelton Sabertooth with LED Eyes
Oh, there's a house on your street decorated with a lot of skeletons? Yawn. Break the bony mold by putting this skeletal ice age creature on your lawn. It stands an impressive three feet tall, has a moving mouth that emits animal sounds when a sensor is tripped, and has red, glowing eyes. Its articulated limbs allow you to set it up in whatever pose you want.
Grandin Road Flame Lighted Pumpkins
Listen, sometimes a classic just works. Case in point: These flickering flame jack o'lanterns. They're made from quality materials, are weatherproof, and have a six-hour timer so you don't have to worry about turning them off at night.
Grandin Road Lady Tombstones
Want more of a gothic cemetery vibe? We dig it and can think of nothing better to go with it than this stone set of three ladies in mourning. The set includes two tombstones with weeping women draped sadly over them, as well as a winged female figure that has seen better days (she's missing her head and part of one wing). All three have a worn look, with small cracks and green moss growing on them. But they're not in any danger of crumbling: the set is made of polystone and can be used in any weather.
Home Depot Spooky Eyeball
This foot-tall, open eyeball is not as creative as some of the other sets here, but it allows you to take the reigns. Why not set it in the hands of the headless scarecrow on your lawn? Or why not buy a bunch and line your front walk? Or why not stack 'em in your yard to create an eyeful tower? Get it? Eyeful.
Spirit Tree Face and Arms
Guys? Guys? Does that tree look, uhh, angry? This weatherproof elm tree stump sure does. It has a gruesome face and arms that sprout out as if someone inside is desperately trying to escape.
Spirit Forgotten Farmer
This animatronic speared head lets you decide on the mood you want to set. It comes with two different settings that change what it says when people pass by. In 'humor' mode it says such things as, "Oh man what a headache. Too much moonshine again." In 'scary' mode it emits terrifying groans. It stands five feet tall — large enough to really spook those candy-seekers.
10ft Light-Up Sandworm
Kids and adults will love this colossal sandworm from the movie Beetlejuice. The little ones will think it's cool while the parents will appreciate having a reference to the cult classic sitting in their yard. It inflates in seconds, has a tongue that spins around, and lights up from within so it's visible anywhere you set it up.
This article was originally published on