The Best Last-Minute Men's Halloween Costumes to Order From Amazon
Don't be the loser who runs out of time and has to wear a sheet as a toga.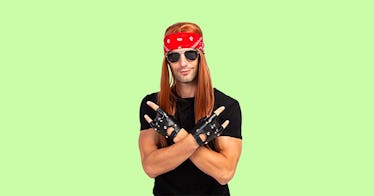 Last-minute Halloween costumes for men are must for the guy who forgot to prepare for the holiday — which is a mere week away. Because not wearing a costume while trick-or-treating is like giving out raisins instead of candy: technically allowed but wrong on many levels. And the fact that traditional trick-or-treating might not really happen this year means checking all of the other Halloween boxes is even more important. Luckily, Amazon Prime's scary-fast delivery speed means that an amazin' (and cheap) Amazon costume is but a few clicks and a day or two away. Here are some solid last-minute Halloween costumes for men available on Amazon that will arrive in time for this year's candy-fueled bacchanal.
Last-Minute Halloween 2020 Costumes for Men
Every product on Fatherly is independently selected by our editors, writers, and experts. If you click a link on our site and buy something, we may earn an affiliate commission.