These Expert-Approved Products to Make Your Thinning Hair Look Thicker
No, these products won't regrow your hair. But they can help your remaining follicles look healthier and thicker.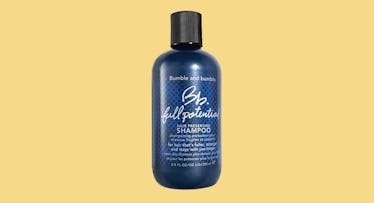 Hair loss happens. But if you don't have the head for that distinguished level of Jean Luc Picard baldness that just sort of suits you, you don't have to go gently into that hairless night. There's a legion of grooming products available today that, while, no, they won't help you regrow your hair, are meant to make your thinning locks look fuller and healthier. So says Aric Congdon, a senior stylist at Ultra Lux Salon in Redondo Beach, CA.
"Good hair care starts with mending damage and promoting a healthy scalp," Congdon says. "Effective ingredients vary from person to person, and common causes of hair damage can include everything from overuse of product to the man bun trend and wearing your hair too tight. But these products can help. Note: None of these products are meant to grow your hair, but to thicken it.
The leader in the healthy hair space is Harklinikken, a Danish brand that has a philosophy centered around scalp health. Clients set up a consultation, either in-person or online, where the brand's experts provide a hair assessment. And then, you get an extract that's tailored to your needs. The goal: Thicker and healthier hair. If it sounds too good to be true, it's not.
David, a Brooklyn dad, set up an appointment at Harklinikken when he realized that his bald spot wasn't just massive, but also scaly and red. In short, disgusting. He'd hidden it under a series of baseball caps until he finally decided to do something about it. He got his own personalized extract, which he applies twice a night, and washes his hair every day with the brand's shampoo. Yes, it's time-consuming, especially if you just want to crawl into bed. But the thing is, it worked.
You can spring for a complete regimen, which includes the brand's shampoos, conditioners, and masks.
Other options that also make a difference:
Nioxin Hair Thickening Kit
The idea behind Nioxin is such: in order to prevent further thinning of the hair, you must first protect the scalp, and then enrich the remaining strands with vitamins. This means ensuring your scalp is clean and oil-free and offering the follicles some nourishment. This four-bottle kit, which includes a cleanser shampoo, scalp therapy conditioner, and scalp & hair treatment, per Congdon, is an excellent place to start. Don't simply trust him though, the pro hair and scalp cleansing line of products is a 16-time recipient of the Behind the Chair Stylish Award for Favorite Thinning Hair Care Product.
Bumble & Bumble Full Potential
Combined, the shampoo, conditioner, and a booster spray in this set help add volume and strength to fading follicles, while also offering a nice dose of, yep, you guessed it, scalp protection. According to Congdon, the kit's money ingredient is creatine, which can make hair look healthier. (No, that's not the same one bodybuilders use — that's creatine monohydrate and it can, in certain individuals, actually contribute to hair loss). Congdon also loves this line for its menthol and UV absorbers, which help nourish the scalp and defend from the effects of UVA and UVB rays. Starts at $30.
Aveda Control Paste
"If you've got thinning hair, and you want to hold it in place, this is a great product to use," says Congdon. "It will keep your hair soft and touchable, while encouraging growth." The "secret ingredient" here is flaxseed oil, which Congdon confirms will promote growth and add dimension to your locks. For the record, Congdon gives the thumbs up to all Aveda products which are all derived of natural ingredients.
Rahua Curl Cream
The Rahua company was founded by a hairstylist named Fabian Lliguin who visited the Amazon and noticed that all the indigenous women had spectacular hair. When asked about their secret, the natives gave him a single bottle of Rahua oil. Congdon says that those of us with thinning, curly hair, should genuinely avoid most products with oils in them (they weigh down your hair instead of making it look fuller), but Rahua oil is an exception. Per Congdon, it's light, nourishing, and protective. Also: Today, more than 500 families in the Amazon region of Quechua-Shuar, Achuar work with Fabian to cultivate the rainforest-grown ingredients found in all Rahua products.
Leonor Greyl Regenerescence Naturelle
A scalp treatment formulated with essential and botanical oils such as hazel seed, soybean, lemon, and cinnamon leaf, this formula earns the thumbs up from Congdon. The main reason? The natural oils, which he says stimulate and purify the scalp and promote blood flow to the hair follicles. He also adds that it's one of the most effective treatments for post-pregnancy hair loss.
This article was originally published on