The Splatblaster Is a Toy Gun That Fires Slime Instead of Soft Darts
The era of the slime gun is upon us.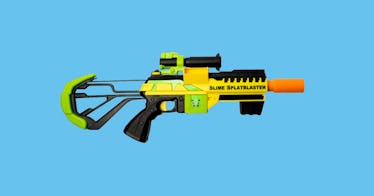 Roi Fabito is better known by his Internet alias Guava Juice. Under that moniker, he has accumulated more than 11 million YouTube subscribers attracted to his manic performances in irreverent videos. And he's leveraged his fame into his own toy company, Guava Toys. Its latest product, the Guava Toys Slime Splatblaster, combines two things kids love: toy guns and slime.
The Splatblaster looks like a typical toy gun. It's about a foot long and brightly colored, with a pump action mechanism below the barrel and simple trigger operation. There's also a scope attached to the top for a more precise way to aim.
But instead of water or darts or toilet paper, the Splatblaster fires a specially formulated slime mixture. To get the gun ready to shoot, pour the included container of slime into the cartridge and slide it into the assembly on the gun. A second cartridge is included that can be filled with slime and stored on the side of the gun for quick reloading mid-battle.
After pumping 10 to 20 times, kids can take aim and fire multiple slime splats up to 16 feet away. The gun comes with enough slime for 300 "rounds" of ammo, and refills are available starting at $8. The company warns against using any non-official slime in the gun, as it can jam up the works and necessitate running water through the toy to clear it out.
For obvious reasons, the Splatblaster is recommended for outdoor use, but it can be cleaned with soap and water if need be. It may not be as easy to reload as a Nerf gun or as cheap to fill as a water gun, but Fabito's young fans will love the Splatblaster because, like his videos, it's pointless and fun.