6 Great Scotches to Sip by the Fire
Is there any more perfect a combination than a smoky scotch beside a fire?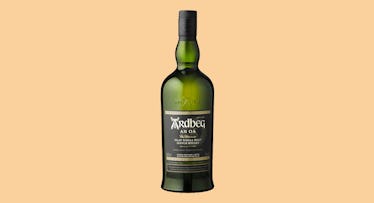 There are few more perfect and more obvious pairings in life than a fireplace and a good, peated, single malt whisky. It just works. Both have smoke and both offer warmth and relaxation. Most of the best and notable peated single malts are made on the Scottish island of Islay. But there are a few beyond the Hebrides that use a peat fire to dry the barley used in the mash to give it that rich, smoky flavor. This winter, if you find yourself warming your body beside a roaring fire — or just wish you were — try one of these six peaty bottles of whisky.
Ardbeg An Oa
Islay stalwart Ardbeg combines whiskies matured in Pedro Ximénez sherry casks, the ex-bourbon barrels used to make the brand's signature 10-year and some out of newly charred American Oak. Then, the three parts spend three months together in a marrying vat made from French oak. The result is an exceptional whisky with an almost milky mouthfeel with notes of fruit and sweet spice lead your mouth to tea leaves and cocoa as well as a salty flavor the makers describe as grilled artichokes. Of course, it's still a smoky Islay whisky and the peat lingers, as it should. At $65 a bottle, it's a steal at twice the price.
Lagavulin 16
Not only is it Nick Offerman's go-to fireside whisky, but Lagavulin 16 is one of ours as well. Big and complex, flavors of salted meat and sweet fruit shine through the luxurious smoke for a lust-worthy dram even the beardless can enjoy.
Laphroaig Lore
Honey, smokey peat, fruit, chili spice, salt, chocolate, minerals, iodine — there's such a staggering depth of flavor, every mouthful of Laphroaig Lore seems a bit different. Each dram is magical, full and lovely while it's on your palate, and after you swallow this uisge-betha the finish pulsates on the tongue in a sweet and savory riff of flavor with a final chord of smoky goodness that rings out over your taste buds, echoing into the next glass.
Westland Peated American Single Malt
Peat love, American style — fans of the hallmark Islay smoke looking to try a domestic whisky will want to give Westland's Peated Single Malt a go. It serves up a hearty enough portion of smoke to satisfy even the most dedicated peat fiend. Classic notes of orange and roasted nuts shine through the smoke for a delicious mouthful.
Connemara Single Malt Year Irish Whisky
Peated whiskey is a rarity on the emerald isle. In fact, there is only one Irish peated single malt on the market. But if you enjoy a healthy dose of smoke in your dram you're going to love Connemara. Vanilla, fruit, malt, and wood play off the smoke and a lingering brine to create a lovely mouthful that will have your eyes smiling even if you aren't Irish.
Bruichladdich Octomore 8.3
We can tell you that Octomore 8.3 is, at 309 PPM (Phenol Parts Per Million: how peat is measured in whisky,) one of the peatiest ever made. But until the glass hits your lips this is not a concept you'll be able to wrap your head around. It's almost as if Bruichladdich set off a stick of peat-filled dynamite in every glass. As you would expect, the smoke is intense, but flavors of rich cocoa and cherry rise ethereally out of the embers tempting you to a second dram.
This article was originally published on