Google Home Is A Smart Speaker That Can Control A Lot Of Your House, But Not Your Kids
by Elijah Brumback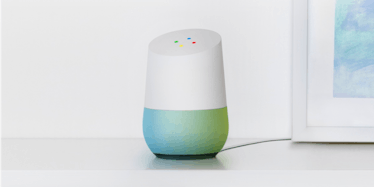 Siri, Alexa, meet Google Home — it's going to be sharing your room and taking over a few of your responsibilities. At this year's Google I/O conference, the company that controls everything from your email to your self-driving car announced their foray into smart home technology with a tiny device that looks like a scented candle from the 23rd century.
Google Home is the latest piece of virtual assistant tech that "learns" your preferences the more you use it. Place it in the middle of your living room, and its always-listening microphone knows what to do when you call out potential playdates to add the calendar, order an emergency shipment of diapers, or blast all the Kindie rock playlists you've saved. Yes, yes — your Amazon Echo does all that, but at the keynote guy said this device will do it better!
You're only a few years from your home being pretty much fully voice controlled, and Home is Google's effort to make sure it has more than just its foot in the door. According to the gadget geeks at The Verge, Home will do less than the Amazon Echo by design, and focus on doing a few core things — like communicating with Chromecasts and Nest thermostats and cameras, or Google Voice — exceptionally well.
Since no one's gotten their hands on one yet, it's too early to tell if it will succeed at that, but if you're already dependent on those devices Home will probably make some sense. And, if you're kind of partial to your Roomba and Roku, Google hasn't even announced a release date yet, so you have some time to get them both comfortable with the idea.
This article was originally published on