Good Grief, The New Vans x Peanuts Collection is Awesome
Charlie Brown, Snoopy and the rest of Charles Schulz's crew
by Brad Weekes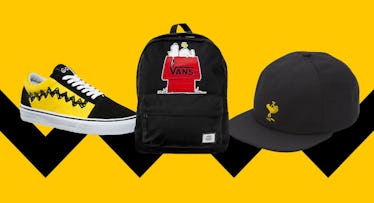 In search of a fresh father-child look or just some stylish back to school gear for your kid? Vans recently announced the third iteration of their collaboration with Peanuts and the resulting Vans x Peanuts collection features a full line of kids shoes, shirts, and backpacks stamped with Charlie Brown, Snoopy, and the rest of Charles Schulz's crew. Good grief, indeed.
The entire collection is pretty great. Charlie Brown is honored on a pair Vans' skate shoes. Made from yellow canvas and black suede, they have 'Good Grief" embroidered on the tongues. Everyone's favorite loyal beagle is on black and white high tops as is his alter ego, Joe Cool. You can also see Snoopy riding on his skateboard (because duh, this is Vans) on a blue backpack. Raddest of all, the whole Peanuts crew, including Linus, Lucy, Sally, and Snoopy are enshrined on Vans' classic slip-on. Finally, for a limited time only, customers can create their own custom Vans x Peanuts design.
Whether he's dealing with diminutive Christmas trees, moping around, or adorning the side of your shoes, Charlie Brown just brings families together. Just be sure to steer clear of trying to kick football while wearing these items. Charlie doesn't have the best track record in that area.
This article was originally published on