This App Gets Your Kid Programming By Turning Cupcakes Into Coding Language
by Jonathan Stern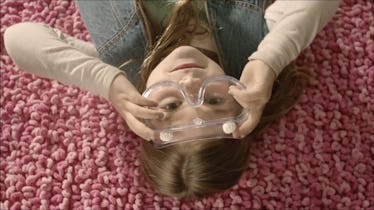 You may recall GoldieBlox, those STEM toys aimed at girls that have your daughter as excited about engineering as she used to be about Elmo. Well, they've just launched a smartphone app for kids 4 and up that combines two tastes that go great together: computer science and baked goods.
The Rocket Cupcake Co. teaches skills like sequential code execution, programming behavior, and debugging — you know, things that will help them get future jobs and will leave you muttering about how nobody reads newspapers anymore. The app has kids as young as 4 help Goldie (the world's first girl engineer and Blox entrepreneur) and her pal Ruby Rail make and deliver cupcakes around Bloxtown on their rocket skateboard. Why does everyone in Bloxtown need dessert? Well, Goldie can't remember whose birthday it is, so she has to give everyone a cupcake. Ah Goldie, what you lack in business savvy you make up for in coding tutorials.
There are 20 levels of puzzles that get incrementally more difficult — so your child will be playing for at least the duration of a long car ride. And if they don't feel like being challenged, they can also enter a sandbox mode to do a bit of freestyle coding. Hey, if software programmer doesn't work out, your daughter has a good chance of being Cake Boss.
Ages: 4+ $2.99 (iOS)
This article was originally published on